by Krause Center for Innovation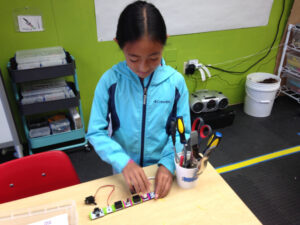 The Microsoft/KCI Innovation Award honors three exemplary, innovative teacher-student collaborative projects that fully integrate technology and benefit the Silicon Valley educational community. The first place award is $6,000, while the second place entry receives $4,000, and the third $2,000. All three winners were honored at the Award Recognition Event on March 23, 2016.
First Place: Summer Art & Design Thinking Camp (Kim Mesa and Corinne Takara, Alum Rock Educational Foundation)
This project-based camp engages middle school youth in exploring design thinking processes, digital tools, and visual arts. Campers work individually and collaboratively as they use technology in a very engaging, dynamic, and innovative way. Each week has a different theme and the camp day is divided into two parts – focused learning and tinker time.
Second Place: Science Enrichment and ResearCH—SEARCH Class (Terry Chou, Joaquin Miller Middle School)
SEARCH has been designed to offer students an authentic scientific research experience that is directly driven by student-generated projects. To make the learning of science applicable, each project is developed from a business perspective and all student groups are effectively start-up companies.
Third Place: BBC Presents (Stacy Newsom Kerr, Santa Cruz High School)
As part of the tenth-grade Industrial Revolution history unit, students create materials to pitch a movie idea to the "BBC". In collaborative groups they choose a topic, create a pitch book with historical background, costume ideas and historic locations, and then film and present a three minute period-accurate preview video that explores their topic.