Students ask "What if I could build my own computer just the way I want it? How powerful could my machine be?"
Building a computer may not be as hard as you think, and it certainly can save you money. You just have to know what you want the computer to do, and which components are the best for the job.
Krause Center for Innovation offers a class "Build Your Own Computer" for students (middle school age and up). Students get a hands-on experience exploring how computers work, basic electronics and binary logic, how to choose components that best design the system that performs the way they want, and how to install and wire the components to make it work.
To understand some of the basic logic and electronics that go into computing, students performed experiments with integrated circuits. They learned about bits and bytes, the formation of Boolean and binary data, and how microchips work. They used logic boards to test and view circuit processes that are the same processes that occur in modern chips yet at a microscopic level.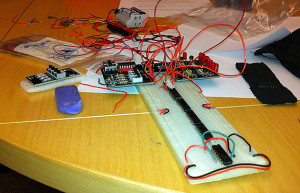 Students also learned how to design various kinds of computers based on memory, speed and cost of each of the components. Then they assembled their PCs and the lesson culminated in a shopping tour of Central Computers in Santa Clara.
Senario-based Instruction Engages Learners
To help bring home the importance of thoughtful planning and system design by component choice, the students were given a special scenario-based assignment. Each student was given the role of freelance developer. They had a client who ordered 2 computers, a basic system for word processing and Internet connection and the second computer was to be a high-level gaming system. Students had to shop for the components they would need to create both systems, record the component title, product number and price.
Students and parents loved the class. They came away with their own catalog of the best components to purchase for the specific machine they wanted to design. They also learned how to assemble the systems and that they could build for themselves machines that were powerful and low-cost.
2 Responses to KCI Offers Hands-on, Project, and Scenario-based Class: Build Your Own Computer