by Krause Center for Innovation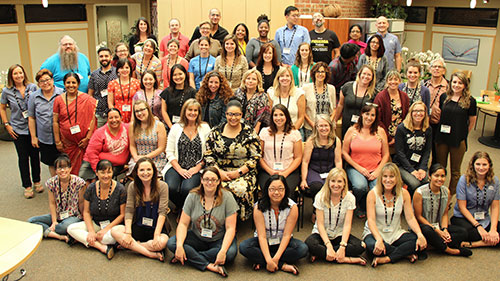 The KCI has conducted its flagship, intensive professional learning program, Making Education Relevant and Interactive through Technology (MERIT) since 2001 to overwhelmingly positive feedback. Ever evolving, each year MERIT seeks to challenge educators to find their technology mojo, not for technology's sake, but to radically change how they teach and how students learn. This year, 50 teachers were up to the MERIT challenge. They represented school districts from across the greater Bay Area, and for the second year, five teachers attended from Mumbai, India.
Each year, MERIT evolves to focus on the latest educational trends and technologies, all based in sound pedagogical practice. For 2016, the participants began with a grounding in social-emotional learning (SEL), which can empower teachers and students. SEL advocates intend to use social-skill instruction to address a variety of topics, including academic discipline, behavior, discipline and safety. SEL strategies, advocates say, can also help students of all ages become self-aware, manage their emotions, form good relationships, make positive choices, and build healthy social skills such as empathy, considering alternative perspectives, and appreciating differences. Creating such an environment is instrumental in helping students find their voice and excel in the classroom.
MERIT participants also were introduced to design thinking, a popular approach to problem solving and product ideation initially developed by the Stanford University Institute of Design, also known as the Stanford d.school. A natural complement to SEL, the design thinking presentation gave participants the opportunity to learn how design thinking establishes empathy–a key trait of emotional intelligence.
While MERIT is heavily oriented to hands-on experimentation and collaborative work, the instructional team, led by Roni Habib, also featured expert presenters James Sanders and Scott McDonald.
Sanders wowed the crowd by chronicling his biggest educational failures, providing commentary on the importance of taking risks and being proud of failures, since they are opportunities for growth and help people learn to persevere and find their "grit." The chief innovation officer for EdTechTeam and co-founder of Future Ready Schools, Sanders has also worked on education open data initiatives during his service as a Presidential Innovation Fellow at the White House.
An associate professor of science education and director of the Krause Innovation Studio at Pennsylvania State University, McDonald captivated the group by reminding them of the passion that inspired them to become teachers. He helped them isolate one thing that they will implement now to change their teaching practice during this academic year and well into the future.
Throughout the 10-day MERIT summer institute, teacher are given time to learn new technology and instructional approaches, explore and experiment, and ultimately develop lesson plans and projects to implement in their classrooms. When asked whether MERIT showed them how to facilitate and inspire student learning and creativity, 96 percent responded yes.
The cohort will return throughout this academic year and focus on additional technology skills and projects. This year, the teachers will complete a design-thinking project with their students, including a student video creation project.
All interested educators are encouraged to apply for MERIT 2017. The application will be available to download in December at krauseinnovationcenter.org.