by Krause Center for Innovation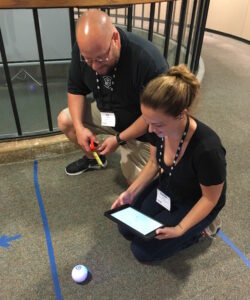 The KCI unveiled an ambitious agenda for the FAME Program this summer by giving teachers a choice between a fully in-person program or a hybrid program. The blended section was developed from the original FAME curriculum, and both programs are Common Core-based. Each emphasized teaching and learning solutions for difficult pre-algebra, algebra, and transformational geometry concepts. FAME's primary purpose is to increase student achievement in 6–10 grade math courses. Particular importance is placed on preparing English language learners and low-income students to successfully complete 8–9 grade math requirements.
The KCI sees the value in moving toward a hybrid model of instruction, in which participants still meet for group work, but have the opportunity to complete 50 percent of the program online. During this pilot, participants completed 30 hours of collaborative, face-to-face sessions, with the remaining 30 hours accomplished via online learning activities. This allows teachers greater access to high-quality professional learning and scheduling flexibility, since many teachers cannot attend a 10-day program, but can attend for five days.
The KCI's traditional FAME Program was also conducted in the same format that participants have experienced over the last six years. The program is conducted entirely in person, and participants attend a two-week summer institute in July and four follow-up sessions during the academic year.
The original intent was to have the curriculum of the two programs mirror each other, yet some content variation did occur since the instructional teams were different and each team brought its own creativity to the programs. For example, this year the traditional FAME instructional team included a computer science teacher. This opened up opportunities to introduce the cohort to math-based, computer science tools and projects. The team, under the leadership of Cristina Bustamante, also added a science, technology, engineering, art and math (STEAM) day, which featured engaging activities that focused on how STEAM subjects can be incorporated into math instruction. We learned a valuable lesson: it's difficult to keep a blended program completely in sync with it's in-person counterpart, particularly when the latter is constantly evolving.
While every bit of content for the blended FAME session was drawn from traditional FAME Program, both illustrate different modes of teaching and learning. The value of offering both formats concurrently is that the KCI will be able to measure the effectiveness of the hybrid format in comparison to the traditional. The traditional model has been successful in fundamentally changing how teachers teach their math classes. It is critical that the hybrid model program is equally, if not more, effective. Because it's important that teachers have access to high-quality programs in different modalities, the KCI will review survey data collected from both cohorts and will continue to evolve and improve both models.
FAME is made possible by a grant from the House Family Foundation and through the generous support of the Sand Hill Endowment Fund of Silicon Valley Community Foundation.