by Krause Center for Innovation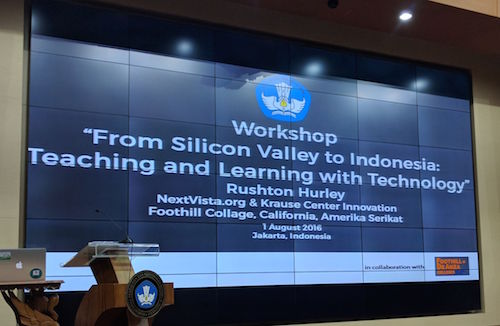 In partnership with the Foothill College International Student Program, the KCI provided training to 20 Jakarta educators, as well as 110 members of the Indonesian Ministry of Education this summer. This international instructional exchange was supported by the Sampoerna Foundation of Indonesia.
The two-day seminar showcased educational-technology options and teaching practices for instructors from 20 Indonesian high schools, all of whom were selected to attend because they've demonstrated dedication to making education technologically relevant and fun for students. "The KCI was excited to share its best practices with Indonesian teachers about integrating technology to fundamentally change teaching and learning," says KCI Executive Director Gay Krause.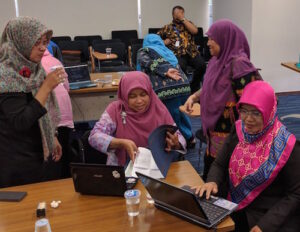 KCI Instructor Rushton Hurley, who served as the training instructor, was enthusiastic about the reception he received. "The teachers at the two-day workshop and participants in the program at the Ministry of Education were extremely positive and exited about what they learned," he says. "This training demonstrated the recurring themes of teachers' experiences around the world: The need to more effectively engage students in a technology-infused world; the need to work with colleagues near and far to make technology a basis of shared experimentation; and the need to keep our focus on designing and developing innovative ways to excite and engage students lesson after lesson, class after class, year after year."