by Krause Center for Innovation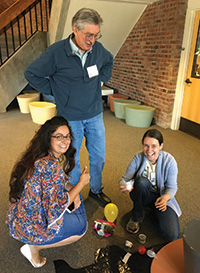 The Next Generation Science Standards (NGSS) are here, and teachers are trying to figure out how these will impact their approach to teaching science. The standards are designed to encourage deeper learning, where students demonstrate their knowledge of science concepts as opposed to memorizing content for multiple-choice tests.
KCI has developed and launched the MADE Science program—a five-day, 30-hour experience—to support teachers with the transition. "MADE" stands for Modeling, Analysis, Design, and Engineering. This summer KCI conducted two MADE Science programs—one for teachers coming from throughout the Bay Area, and the second for teachers from the Belmont-Redwood Shores School District. In its second year, KCI is building the MADE instructor bench strength and honing the curriculum. The
team now includes some noteworthy Bay Area science and maker educators including Greg Brown, Rachel Freed, Robert Provonost, Rebecca Girard, and Sabrina McDaniel—all of whom have worked with Kyle Brumbaugh of the KCI to develop and teach the program.
The program specializes in training teachers through hands-on science projects that are infused with technology and support NGSS. The two cohorts experimented with fizzy rockets and egg drops that they were able to video and slow down in order to truly analyze the activity and the "why" of the results. As Rachel Freed, instructor and program director said, "What does it mean to do science, to have a scientific understanding of something, to look at it through an engineering perspective? Think instead of studying the concept of earthquakes, designing and studying shake-table buildings to withstand them." The participants not only conduct experiments using scientific methods—such as collecting data and improving on the design of individual experiments—they also learn how to build websites, create videos, and design games. These skills will be transferred to students so that when they grasp science concepts, they can share their work through blogs, portfolios, videos and other digitally published media, allowing for authentic, real-world feedback. "Documenting by uploading videos is so important in working with this generation of students, keeping them engaged and ensuring their involvement," said one participant. "So many resources, my head is full in terms of what we have access to and how to organize it!"
Participants were upbeat about the program—100% agreed that the educational technology tools they learned how to use can help them teach NGSS more effectively, and 90% were confident in their ability to integrate NGSS and technology into their curriculum. "The technology and engineering topics were valuable for me. I feel much more confident in tackling the NGSS lesson plans this coming year," a participant said. Another commented, "I found it so useful to engage in hands-on science and learn about how to present these activities and ensure that they're not only fun but also developing key science knowledge and engaging students in the critical thinking process."
To learn more about the MADE Science Program, contact Kyle Brumbaugh at