by Krause Center for Innovation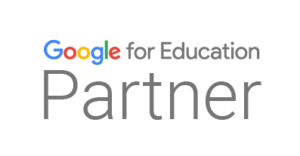 Part of KCI's overall mission is to introduce teachers to technology that is low or no cost. This provides them with tools their students can use at school and beyond. Over the past several years, KCI classes and programs have included Google Tools because they are easy to use and freely available to teachers and students. As part of our service to educators, KCI is excited to join the Google for Education Professional Learning Partner Program. The Google for Education Partner program will allow KCI to offer teachers, schools, and districts access to services and training programs to help them make better use of Google Apps for Education and other Google Tools.
New services include:
Google for Education Summits: Large one to two day events where teachers learn more about how to best integrate Google Tools and technologies into their classroom. KCI held a one-day Google for Education Summit in September 2015, which 150 educators attended.
Google Certified Teacher Boot Camps: As part of the new Google Certified Teacher program, Google has developed two new examinations to assess teacher competence in the use Google Tools. KCI will offer Boot Camps to teachers, as well as schools and districts. KCI can also provide discounted vouchers to schools and districts for teachers wanting to take the certification exams.
Google Specific Tools Training: While KCI has offered Google Tools classes over the past several years, we can now offer specific, targeted training for a school / district in Google Applications: Google Drive, Google Sites, GMail, Google Calendar, YouTube, and others.
Google Apps for Education Consulting Services: As part of the Google for Education Partner Program, KCI can offer schools and districts assistance in setting up their Google Apps for Education domain and work with them to implement Google Apps for Education.
To learn more about these services, contact Kyle Brumbaugh ().
One Response to KCI Joins Google for Education Professional Learning Partner Program