by Krause Center for Innovation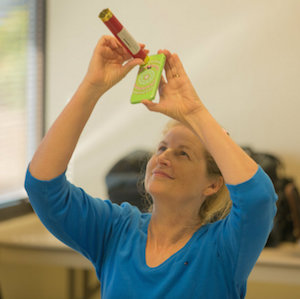 Just as school districts grappled with adopting and implementing the Common Core State Standards for math, they now face another implementation challenge with the Next Generation Science Standards (NGSS), which will fundamentally change how science is taught in K–12 schools. But teachers and administrators have an ally in conquering the NGSS challenge: Relevant professional development training presented by the KCI's instructional experts. KCI leaders know that Silicon Valley teachers are always on the lookout for new tools and techniques that will make their teaching more effective and engaging as they adopt the new standards.
In partnership with the San Mateo County Office of Education, the KCI launched the first three days of the five-day MADE: Science Program this summer. MADE, which stands for modeling, analysis, design and engineering, will help teachers implement the new NGSS standards, while simultaneously infusing technology to provide a deeper understanding of the concepts being taught. The program is comprised of 30 hours of in-person training and provides ample time for practice and discussion. In between live sessions, participants will have access to the KCI instructors by using Canvas, Google forms and other web-based tools to learn and share.
Designed to provide a project-based, in-depth approach to science education, MADE encourages students to experience science first hand, allowing them to apply science concepts in other learning activities, which supports an integrated approach to education. Participants were introduced to the design thinking (DT) methodology, and each day MADE started with a design challenge experience that combined simple materials with creative collaboration. As a result, many of the teachers plan to use these design activities in their classrooms. Participants were also able to try out easy-to-use technology tools. During one hands-on activity, they particularly enjoyed using a slow-motion video app to document rocket flights.
In the two follow-up days scheduled for September and October, MADE participants will share the results they are collecting as they implement ideas and activities from MADE in the first few weeks of school. The KCI's instructional team will introduce additional NGSS-friendly, hands-on activities and technology applications in the final two sessions. All of the concepts taught are aligned to the NGSS, Common Core and ISTE technology standards.
The first MADE cohort responded enthusiastically to the first three days of the program. They strongly agreed that the topics covered are vital to their success in the classroom. In the spirit of Silicon Valley, the KCI is using the initial rollout of MADE to beta-test its best practices and identify real-time improvements that can be made to improve the program. "Going forward, the KCI will invest more class discussion time to review how teachers at various grade levels can use the sample NGSS lesson plans we've included in our course resources," says KCI Professional Learning Network Director Kyle Brumbaugh. "The overarching goal of the MADE Program is for students to better understand scientific concepts, and, in turn, share their work through blogs, portfolios and other digitally published media. This will provide students with an authentic audience and real-world feedback."
To learn more about the MADE Program, e-mail Kyle Brumbaugh at