by Krause Center for Innovation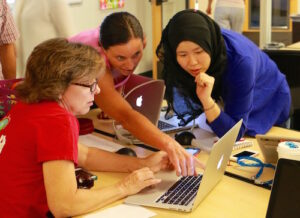 What do Alum Rock, Campbell Union High, Moreland, Santa Clara Unified, Mountain View Whisman, Belmont Redwood Shores, Union, Palo Alto Unified, and Franklin-McKinley school districts have in common? Each one is investing in its educators to support the development of their technology-integration skills and student-centered learning strategies. It's an investment strategy made possible by funding teachers' participation in the KCI's popular Mini Making Education Relevant & Interactive through Technology (MERIT) Program.
During the 2015–16 academic year, more than 300 teachers completed this transformational training in nine Mini MERITs conducted by KCI experts at local school sites, as well as two Mini MERITs conducted in Hawaii (see next article). Tailored programs that focus on meeting a district's specific strategic goals for professional learning, Mini MERITs ultimately help educators deepen their technology skills and, more importantly, gain the confidence to implement new technology and projects for their students.
At the end of the five-day accelerated program, teachers develop new ideas, lesson plans, and projects for their students. These can take the form of integrating online and tablet applications into their curriculum, producing digital media to empower students' voices, flipped classroom and hybrid learning techniques. What makes Mini MERIT so effective? KCI instructors are all classroom teachers who have deep experience and bring real-world applications and solutions to the K–12 classroom learning environment. Because they, too, have been in trenches, KCI instructors can address the instructional challenges that graduates will face when they head back to the classroom.
More than 90 percent of this year's participants agreed that the Mini MERIT experience helped them learn how to better teach with technology, and 93 percent agreed that the program increased their confidence in using technology with their students.
"I loved it and feel 100 times more empowered to use tech tools in my classroom," said one Mini MERIT participant. "The hard work and organization of the entire week's presentation was obvious, and I'm extremely appreciative of the KCI instructional staff and my district for encouraging me participate." Another commented, "I learned a lot from a student standpoint–what some of my struggling students must feel like when working on an instructional activity–which will help me as a teacher."
District administrators are also seeing the benefits of the Mini MERIT Program. "This summer, I had my first experience working with the KCI's instructional staff to customize a Mini MERIT for 35 of our teachers," says Educational Media & Learning Resources Director Bonnie Billings of the Santa Clara Unified School District. "The outcome of our Mini MERIT absolutely exceeded my expectations. During our planning sessions, I've been impressed with how well KCI staff listened to our unique needs and collaborated with our team of education technology teachers on special assignment. Numerous teachers told me how much they learned and that it was the best professional development experience they've had. They requested more. As a result of their feedback, I'm continuing with the KCI to help produce exciting professional development opportunities for our faculty throughout the 2016–2017 academic year."
To learn more about the KCI's Mini MERIT, e-mail KCI Strategy & Marketing Director Liane Freeman at