The KCI gallery is located in the lower level of the building, and is open for the viewing of exhibited work during our regular hours of operation.
The Corrective Lens
Open January 23 - March 20, 2020
RECEPTION
January 23, 2020
7:00 - 9:00 pm
ARTIST TALK
March 11, 2020 CANCELLED
12:00 - 1:00 pm
Photographic images have power and meaning. They have the ability to impact minds and create lasting change on both small and large scales. At the beginning of the 20th century, the French banker Albert Kahn commissioned his photographers to travel around the world in order to document a variety of cultures. This project, developed before World War I, was intended to perform a mission of peace: bringing the outside world closer to home.
As the economy globalizes, and uprooted populations introduce unanticipated diversity to previously insular societies, we need to know what it means to live and think differently. Travel provides us with the opportunity to broaden our global view by engaging with people who have different perspectives, beliefs, and customs. The more we travel outside of our comfort zone and allow ourselves to see the world from a different viewpoint, the more comfortable we become with diversity and begin to realize that people from around the world share more in common than we might have first thought.
Travel is a "corrective lens" that allows us to develop a worldview based on knowledge and firsthand experience, rather than fear. The photographers in this exhibit have used the camera to not only capture the memories of cultures and people around the world, but also as a catalyst for achieving tolerance and respect.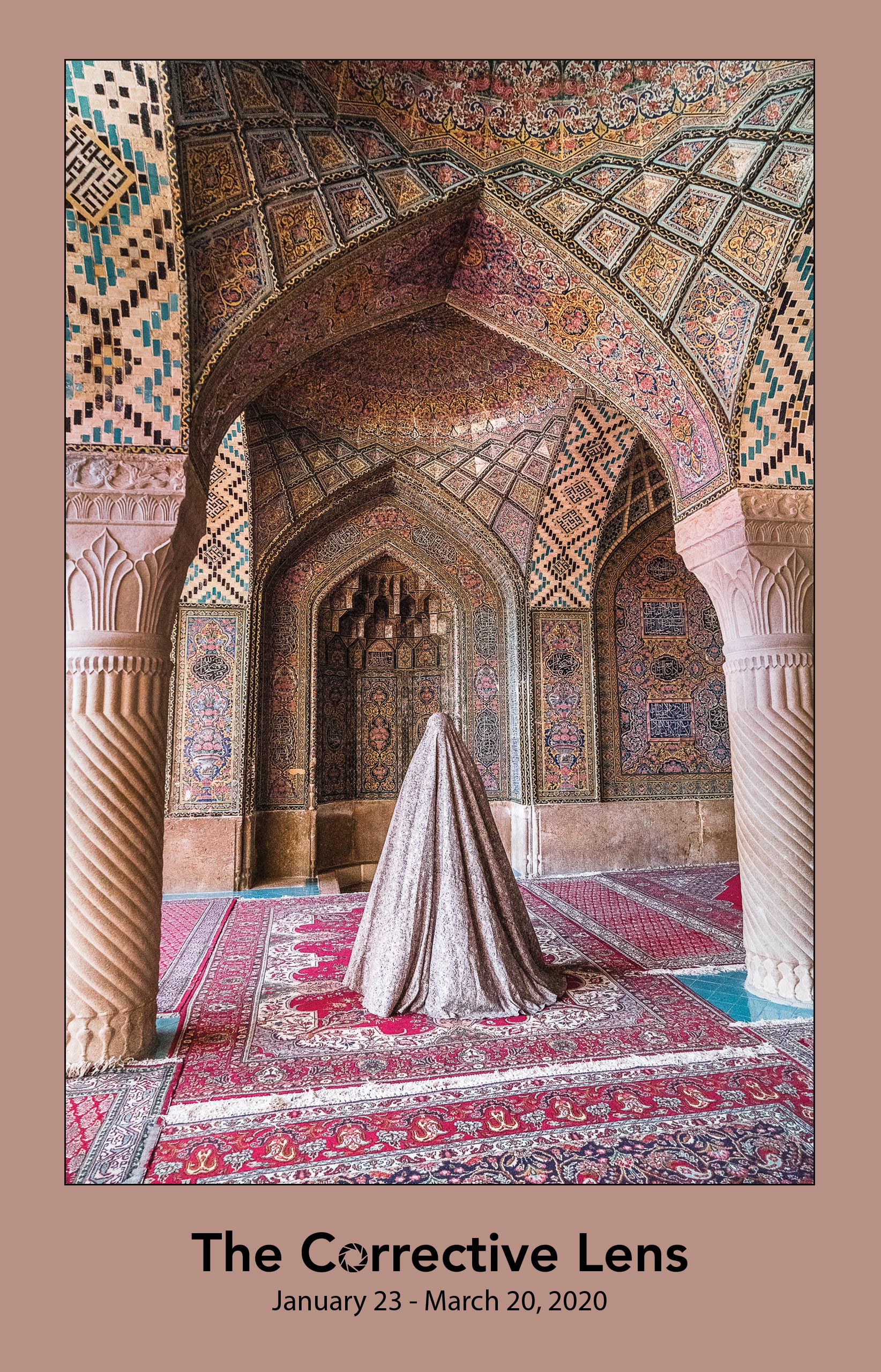 ARTISTS
Mila Bird • Barbara B. Collins • Harlan Crowder • Andrea Ewald • Ron Herman • Marilyn Howard • Mary Ellen Kaschub • Melinda Miller • Wes Mitchell • Pamela Perkins • Annabelle Port • Gabrielle Rondell • Jacque Rupp • Mamen Saura • Timotius Tjahjadi • Sharon Wada • Don Wheatley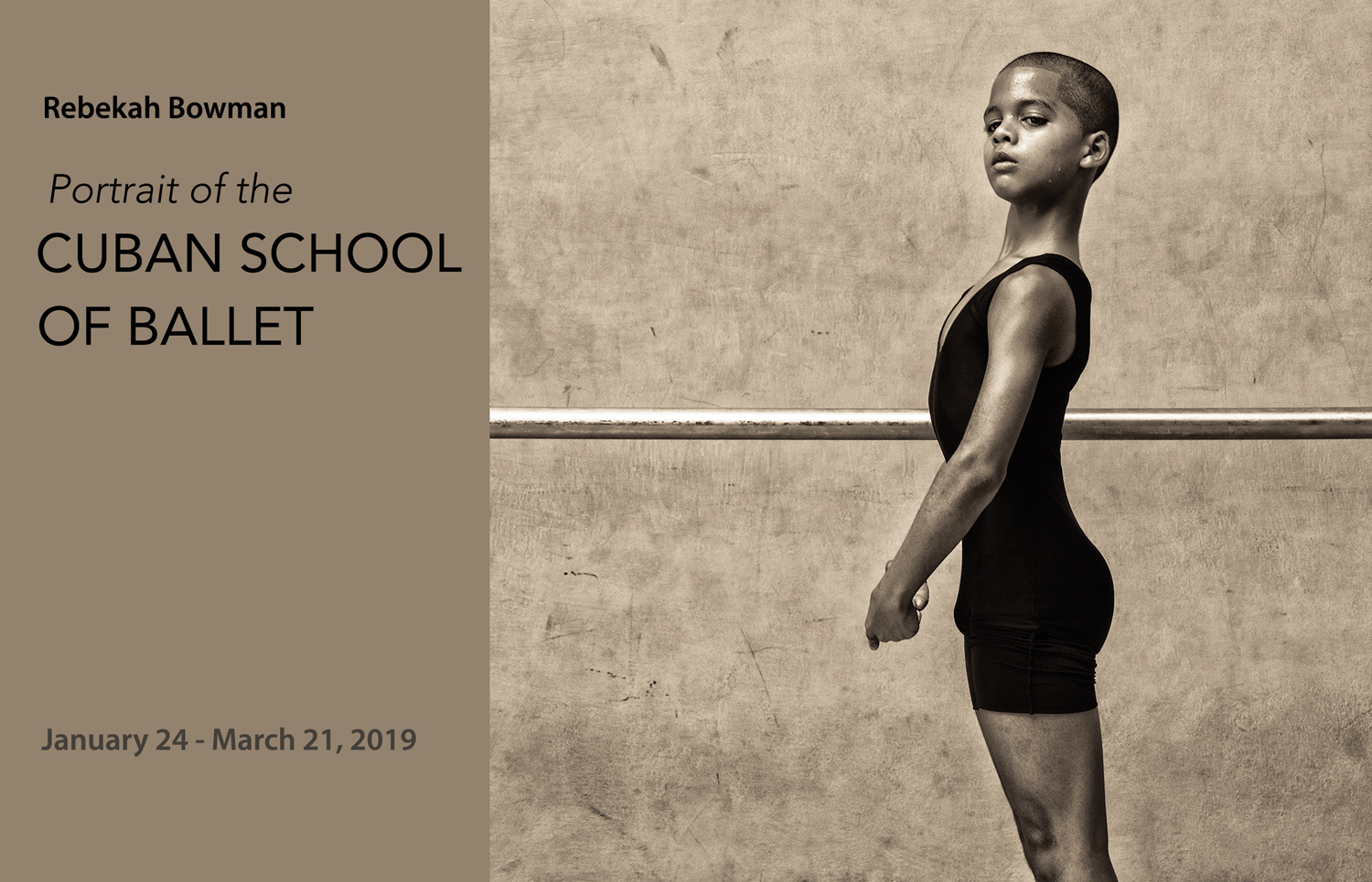 Rebekah Bowman:
Portrait of the Cuban School of Ballet
January 24, 2019 / special events listed below
About Rebekah's photography / book "REBEKAH BOWMAN | Portrait of the Cuban School of Ballet" published by Nazaraeli Press:
With some 3,000 students, the Cuban National Ballet School in Havana is the biggest ballet school in the world, and one of the most prestigious. The School was established in 1962 in a collective effort financed by the revolutionary government to revive Cuba's languishing cultural programs. Founders, Alicia and Fernando Alonso devised and codified a methodology based in the traditions of the European schools and adapted to express a Latin sensibility and aesthetic.
In 1965, Ramona de Saá, a founding member of the Ballet Nacional de Cuba became the school's director and ballet mistress. Since then, De Saá has continued to train world-class dancers in the Cuban method and is today regarded as one of the world's most knowledgeable experts in dance teaching.
Some of the world's greatest dancers have trained at the School, with graduates dancing at The Royal Ballet of London, American Ballet Theatre, San Francisco Ballet, Boston Ballet, The National Ballet of Canada, and many other important companies.
In 2012, Rebekah Bowman traveled to Cuba for the first time to photograph the daily ritual around ballet practice at the National Ballet School; to study the characteristics that distinguish the Cuban style and explore why Cubans have come to identify and express themselves with such success through classical ballet.
Rebekah Bowman is a Mexican-American photographer living in Berkeley, CA. Having grown up in the US, Bowman studied and worked in Europe and Mexico from 1982—2007, traveling extensively while honing her craft as a photographer before returning to the US in 2008. Photographic assignments have included editorial work and documenting NGO projects in Ghana, Kenya, Tanzania, and Mozambique.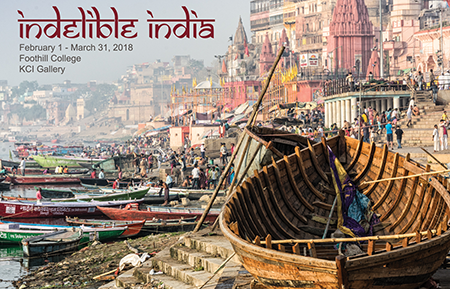 Indelible India
February 1 to October 26, 2018
Contact: Ron Herman
Email: hermanron@fhda.edu
Visit the website: Indelible India
Foothill College and the Photography Department present Indelible India. This photography exhibit showcases images from India, a country steeped in history and comprised of a diverse mix of geography, tradition, architecture and religion.
Few countries in the world carve such a deep and lasting impression on a traveller as does India. The pure, concentrated intensity of its colors, smells, tastes and sounds easily overload the senses. An exceptionally beautiful country, India is filled with massive forts, royal palaces, spellbinding mosques, magnificent landscapes and ancient temples.
Images for this exhibition were made during a two-week trip led by Foothill College Photography Professor Ron Herman. This trip included visits to Delhi, Jodhpur, Jaipur, and the ancient city of Varanasi. The photographers, including current and former Foothill College photography students, captured images of daily life in Northern India. Through their lenses, these photographers explored various facets of Indian culture including a Hindu aarti ceremony held on the banks of the Ganges, a kushti wrestling facility where young men train to compete in the traditional form of Indian mud wrestling, a widow ashram housing women who have been ostracised from society after the death of their husbands, and celebration of the ancient Holi festival signifying the coming of spring and the rebirth of nature.
Exhibitors include: Katherine Bazak, Mila Bird, Barbara Buchholz Collins, Michael Collins, Ron Herman, Mary Ellen Kaschub, Annabelle Port, Gabrielle Rondell, Joan Sperans, Don Wheatley, and Kate Winn-Rogers.