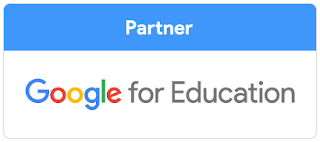 SUMMER INNOVATION INSTITUTE
Tools to Promote Student-centered Learning
June 17, 18, 19, 2019
KCI Davis Summit - Day One (Monday, June 17)
In partnership with Davis Joint Union School District, Krause Center for Innovation is holding this event on June 17th that focuses on integrating and using G-Suite for Education and other tools to promote student-centered learning in the K-12 classroom and higher education. A keynote speaker, high-impact learning sessions, continental breakfast, and lunch are all included!
Attendees will include teachers, administrators, library media specialists, technology support staff, chief technical officers, technology coordinators, other educators and anyone interested in learning more about how to leverage G-Suite for Education to support student learning and community outreach.
Innovation Workshop - Days 2 & 3 (Tuesday & Wednesday, June 18 & 19)
Educators never seem to have enough time to take what they learn at conferences and apply them to their own classrooms. The Innovation Workshop, a two-day event, allows participants to take the learning from the Summit and go further. During the two days, participants will develop units that can be used in the classroom with students.
Concentration areas for these workshops include:
Project-Based Learning (four strands)
Universal Design for Learning
Student Voice & Presentation of Learning
Assessment Practices
Social Emotional Learning
Dates:
June 17th – KCI Davis Summit: 8:30am to 4:30pm
June 18th and 19th – Innovation Workshop: 9:00am to 3:00pm
Where:
Davis Senior High School
315 W. 14th St.
Davis, CA 95616
Cost:
Day 1 Summit: $125 (Includes continental breakfast and lunch.)
Days 2 & 3: $120 (Breakfast and lunch are not provided on these days.)
Combined Ticket – all days: $245