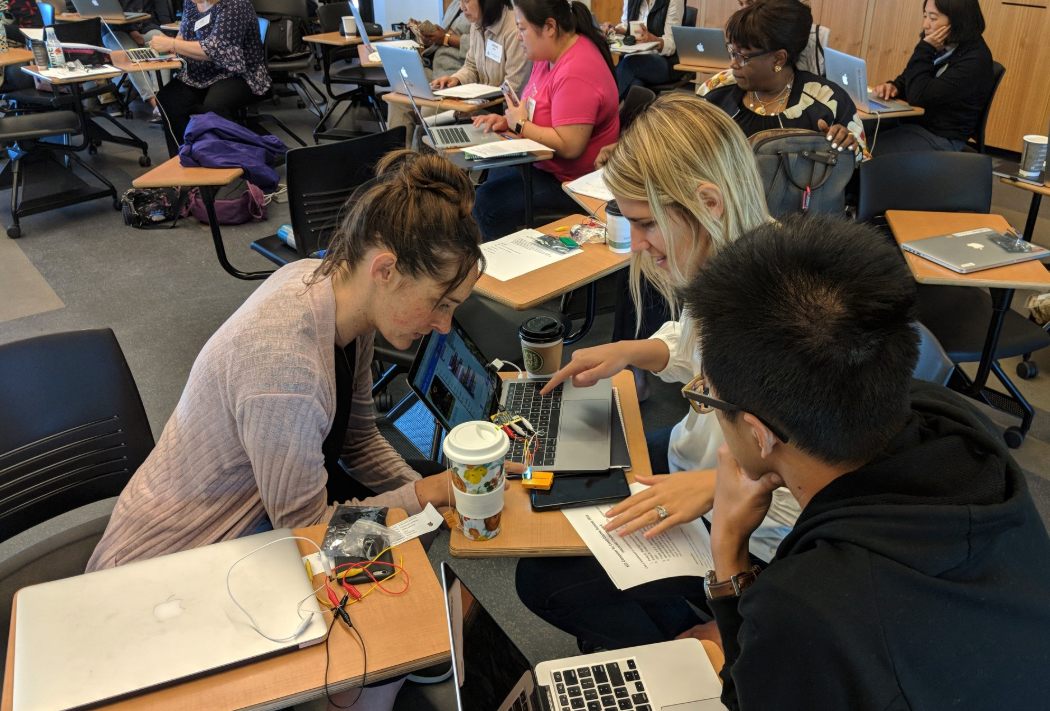 COMPUTER SCIENCE - new 3-hour workshop
Coding for Data Analysis in Writing, Science, History and More
March 23, 2019
KCI is pleased to announce the next Computer Science Workshop in the series. Join us for a special 3-hour workshop that will  teach you a variety of projects to analyze data (examples: word usage in a writing passage, climate data in a NGSS Science unit, and the Titanic data for a History lesson). You will learn to use these ideas on other data sets of your choice and make your own data analysis lessons for your classroom.
You will understand how coding can be a powerful tool to analyze data. The workshop will use both Scratch 3.0 and Python to analyze date. This workshop is most appropriate for educators working in grades 3-12.  All coding levels welcome.
The workshop will include a networking lunch with other educators interested in computer science.
Thanks to the generous funding from Microsoft, the workshop AND lunch is available to Bay Area educators for a $25 registration fee.
Instructor: Sheena Vaidyanathan has been teaching computer science in California public schools for 8+ years and has extensive experience with K-8 curriculum development and professional development. Prior to her teaching career, Sheena worked in Silicon Valley's technology industry. She holds undergraduate and graduate degrees in computer science as well as a California Single Subject Teaching Credential in Math. She has presented at several conferences and writes articles on CS education.
Questions? Contact Liane Freeman at ude.adhfnull@enailnameerf.
Date: Saturday, March 23, 2019
Time: Workshop 9am to 12 noon / Lunch noon to 1pm
Location: KCI, Foothill College
Cost: $25.00
New program offered by KCI and The Tech
Design Thinking Bootcamp
April 9 - 11, 2019
Again this April, KCI and The Tech are teaming up to offer educators an innovative Design Thinking program, located at The Tech Museum in San Jose.
This three-day workshop gives teachers the tools they need to frame complex questions through design thinking so that learners feel motivated to engage in the conversation. Participants will move through the design thinking process; deconstruct how design thinking, science literacy and NGSS three-dimensional learning can go hand in hand; and explore problem-based assessment methods.
Questions? Contact Liane Freeman at ude.adhfnull@enailnameerf, or gro.hcetehtnull@etutitsnisrewob
Date: April 9-11, 2019
Time: 9am to 3pm
Location: Bowers Institute @ The Tech, 145 W. San Carlos St., San Jose.
Cost: $425 - individual
$400 - 2 to 3 participants
$375 - 4+ participants
Maximum 25 people. Parking and payment policies.
REGISTRATION
groupreservation@the tech.org or 1-408-294-8324, option 3
Creating with Chrome
April 27 & 28, 2019
Increasingly, schools are using Chromebooks in the classroom, and the Chrome browser has become a revolutionary tool for schools. The beauty of using Chrome is that any device can run this browser, allowing students to easily and affordably be creative and engaged learners. Conversely, many teachers find themselves falling into the routine of just using Chrome as a way for students to access GSuite and browse the web. This two-day workshop will show how teachers can maximize Chrome or Chromebooks to have students shift from being simple consumers of information to becoming phenomenal creators of content.
Date: Saturday and Sunday, April 27 & 28
Time: 9:00 - 3:30
Location: KCI, Foothill College
PRICING
for two-day event:
$299 full price after 4/1/19
EARLY BIRD: $269 (now until 3/31/19)
BEST DEAL
Join KCI Connects ($50 annual membership), and receive a code to attend this conference for $240! (to join: CLICK HERE)