ELLI is a year-long program that focuses on leadership and education technology in the classroom.
Emerging Leaders in Learning Innovation (ELLI) is only for alumni of the MERIT or Earn As You Learn programs.
Participants will finish with 6 quarter units and a California Certificate of Achievement in Emerging Educational Technology Leadership. Throughout the program, you will research, design, implement, evaluate, and present a project that will support an initiative in your school or district. This will be an intense program designed for teachers who want to pursue alternative leadership development that does not lead to administration. The program will incorporate research, best practices in the classroom, and best practices in a professional setting.
What's the story behind ELLI?
For many years, MERIT (Making Education Relevant through Innovative Teaching)/Earn While You Learn has been the flagship and pinnacle of KCI's program options. While you have been diligently working to meet and exceed the demands that COVID-19 has thrown your way, the KCI team went back to the drawing board to reimagine a new KCI "Everest". And so, ELLI was born.
We wanted to create a program that built on top of MERIT rather than compete with it. Traditionally, MERIT has been a program that causes direct and immediate impact in the individual classroom. But we know that certain educators can cause school or district-wide change. ELLI provides a path for classroom teachers or TOSAs to explore leadership without going down the traditional path of administration. If teaching is what you love, then you shouldn't have to sacrifice it to be a change agent.
Who is eligible for ELLI?
You must have participated in and successfully completed KCI's MERIT or Earn While You Learn programs. If you are in the current 2020 MERIT Cohort, you are eligible to apply but acceptance is contingent upon completion.
You must have at least six successive years of teaching experience at a public, private, and/or charter school.
You must be able to meet during the specified days during the summer for their entirety. All evening classes throughout the year will be mutually agreed upon by the cohort and it is expected for you to attend those as well.
You must have the endorsement of your principal or district administrator (please see form above).
What if I'm not eligible for ELLI?
All of our KCI programs are designed to help you create a more effective and engaging classroom experience. These skills help prepare you to grow into a leader among your peers.
We encourage you to explore these programs:
MERIT (for pre-service, early in-service K-14, and veteran educators)
STEAM Leadership (for grade 6-12 educators)
What are the dates for ELLI?
Three 90-minute evening sessions in May and June, dates TBD
July 8, 2021 - July 10, 2021 and July 16, 2021 to July 17, 2021 from 9:00 AM to 5:00 PM each day.
Three 90-minute evening sessions in September to December, dates TBD
Three 90-minute evening sessions in January to March, dates TBD
What are the benefits of ELLI?
California State Certificate of Achievement in Emerging Educational Technology Leadership
6 units of Foothill College Credit
Travel, Room, and Registration costs for Spring CUE 2022
What are the requirements for participants of ELLI?
Complete ALL work provided by the facilitator
Attend every meeting scheduled for the program
Create a school or district-wide project and implement during the 2021-2022 school year
Present your project at the Spring 2022 KCI Symposium for school, district, and county leaders as well as other invited guests from KCI
If accepted, submit a $75 fee to secure your spot in the program.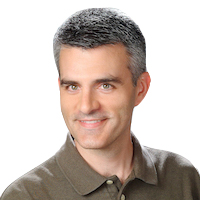 Rushton Hurley
ELLI Program Director
Rushton Hurley has worked and studied on three continents as a Japanese language teacher, school principal, teacher trainer, and inspirational speaker. He founded and directs the educational nonprofit Next Vista for Learning, which houses a free library of creative educational videos at NextVista.org, and holds masters degrees in Education and East Asian Studies from Stanford University. The author of three books, Rushton's fun and thoughtful talks center on inspiration and creativity, technology and leadership, avenues for engaging learning, the power of digital media and tools for collaboration, and personal and professional perspectives in a technology-infused, ever-changing world. Rushton loves to travel, makes occasionally successful attempts to take a good picture, cleans up after his cats, and considers himself to have married up.