SUMMER 2019
Playful Programming, Tinkering and Engineering
Developing skills to program, tinker, experiment and invent applying the Engineering Design Process and Design Thinking to solve problems.
Youth will learn the fundamentals of programming the Adafruit Circuit Playground Express using Makecode.com.  As they learn the various capabilities of the platform, they will be challenged to apply these to solving some real-world problems.
Prototyping will be done using cardboard engineering using tools such as Papermech.net in combination with the Circuit Playground Express as they develop their product.
Learning to work through the Engineering Design Process and Design Thinking, students will work to solve problems identified by their observations and interests with the course materials. Using the Stanford D. School Design Thinking process students will interview a user/client, identify the problem(s), generate solutions, build a solution, get feedback and iterate.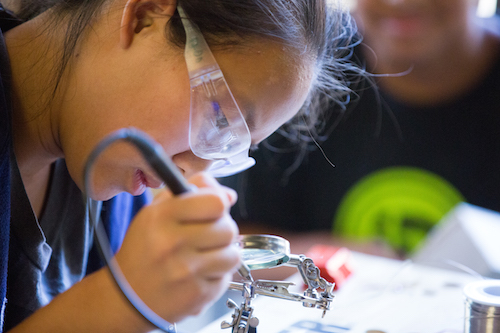 DATE
June 24 - 28, 2019
DAYS
Monday through Friday
TIME
9:00 to 4:00 with a break for lunch
AGES
11 - 16 years
FEE
$725 (includes all materials, some  that students will take home)
CONTACT
Liane Freeman at ude.adhfnull@enailnameerf
REGISTER
Register through the Los Altos Hills Parks & Rec Dept.