KCI Makerspace Prints Face Shield Headbands for Local Healthcare Providers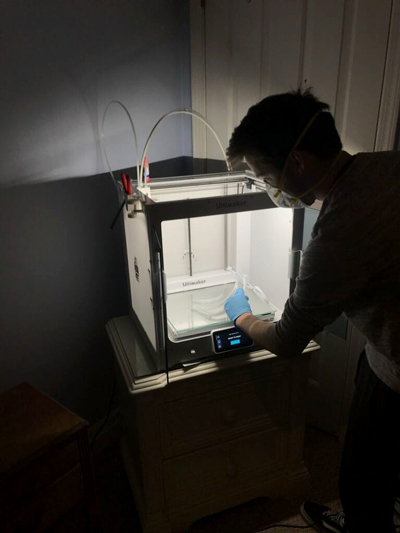 Krause Center for Innovation, part of the Foothill DeAnza Community College District in Los Altos Hills, California, is taking on the fight against personal protective equipment PPE shortages. Since the March 14 closure of KCI's physical offices, located at Foothill College, makerspace staff have been busy developing partnerships, procuring materials, and prototyping products.
The makerspace's seven 3D printers are now being utilized to print headpieces for face shields through a partnership with Maker Nexus in Sunnyvale. The 3D printers are using a Prusa RC2 Headband design. Each run of the 3D printer produces 3 sets of headbands and support pieces, taking about 7 hours to print. At full capacity, KCI staff plan to produce almost 500 headpieces per week.
The largest hurdle for makerspace staff has been adapting the design to the different 3D printers that are used by KCI. As a primary resource for education, the makerspace uses different brands and styles of printers, each with its own unique features. Now that they are utilizing them for production work, the staff is navigating variational challenges such as material consumption rate, print time, and atmospheric fluctuations.
Makerspace Director and Teacher-in-residence, Kas Pereira, has been working to procure enough PETG filament to keep printers running at full capacity. PETG is a flexible plastic that can flex to conform to a forehead and can be disinfected with bleach. It will take 20-30 spools per week to keep the KCI printers working at max capacity.
"It is this kind of ingenuity that Makerspaces can inspire in a community," noted Krause Center Founder and Executive Director Gay Krause. "I am happy that even with our office space closed, we can contribute to the critical needs of healthcare workers.
The Krause Center for Innovation is a donor funded organization, housed at Foothill College, offering classes and programs to prepare teachers to use a variety of new teaching methodologies, hardware and software tools, including Makerspace applications. If you would like to support the KCI:
Photo at top: Makerspace employee and Foothill College student, Jon Armer, works on prototype of PPE headband
Photo below: 3D printer