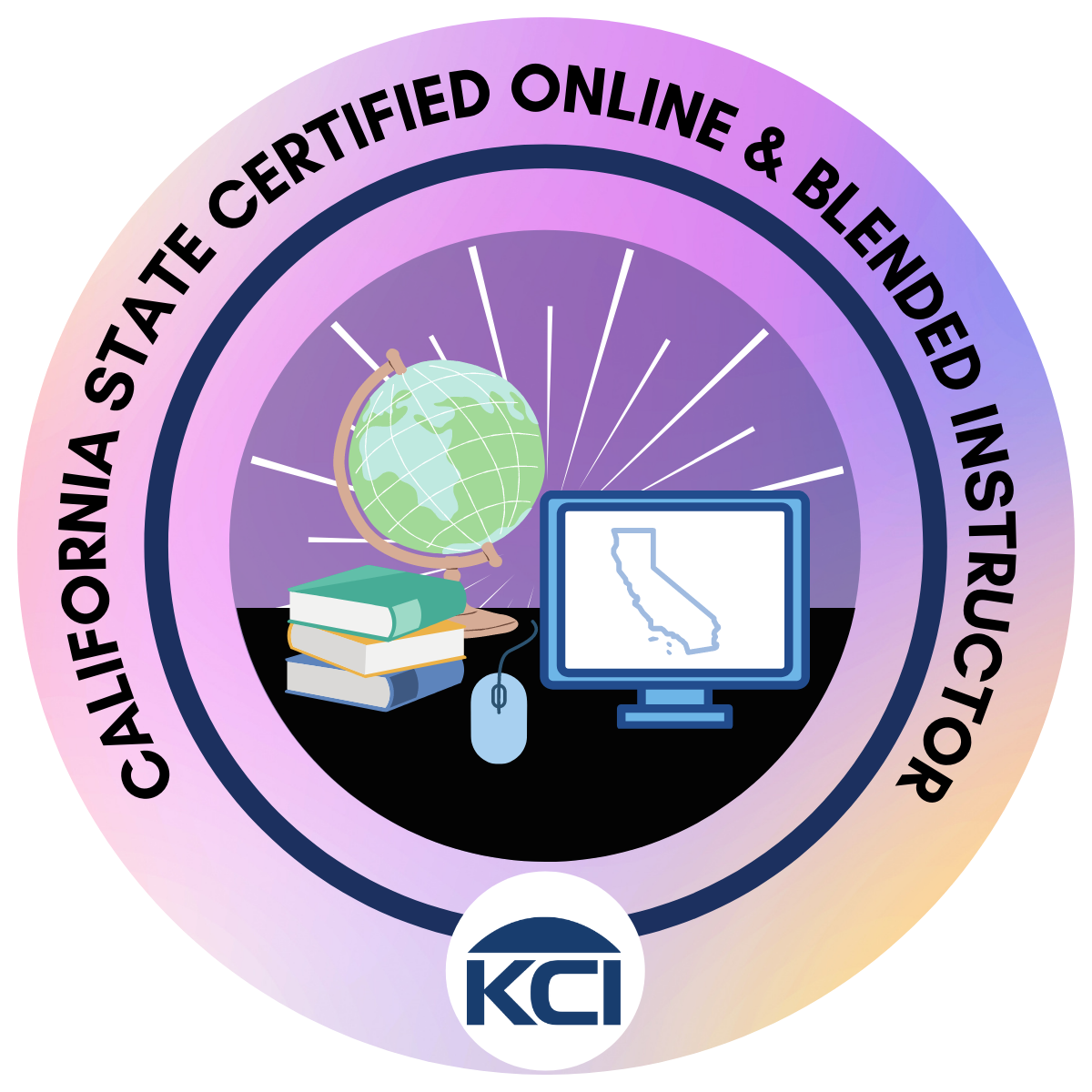 CA State Certificate of Achievement as an Online & Blended Teacher PLUS 15 Quarter Units from Foothill College
No tuition for CA residents ($75 Registration fee required upon acceptance)
*Out-of-state applicants will incur a per-unit fee
Online (asynchronous, with synchronous meetings)
Competency-based with an average task time of 2-3 hours per week

The Online and Blended IMPACT (Instructors Magnifying Potential and Cultivating Transformation) program is designed for current and pre-service K-12 educators and TOSAs. Participants who complete the program will earn 15 quarter units of continuing education over two Foothill College quarters and become California State Certified as an Online and Blended Instructor.
Explore the best practices of online and blended instruction from classroom educators who continually support educators throughout California. Each cohort is designed in response to the ever-changing landscape of education, from online learning to virtual classrooms to blended environments.
Program Advantages:
Grant-funded professional learning – We keep educator's budgets in mind.
Short timeline – Finish the program in six months.
Job-Embedded – Develop materials you can use with your learners right now.
Community – Join a supportive, mentor-based community of like-minded individuals.
Is this program right for you?
Are you a current educator working at a school, district, or county office?
Are you comfortable and experienced with common technology platforms (ie. Google Workspace, Office 360)?
Are you willing to troubleshoot and problem-solve independently?
Are you interested in pursuing online and blended instructional leadership? (Psst… this is a plus!)
Live Virtual Meeting Dates and Time
5:00-7:30pm PST
October 4, 2022
November 8, 2022
December 6, 2022
January 10, 2023
February 7, 2023
March 7, 2023
Give a Lesson a Design Facelift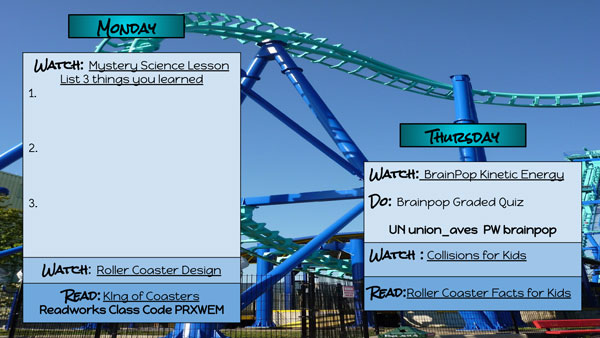 When we switched to distance learning my team was committed to continuing our Science and Social Studies content. At first, we put the individual activities into Google Classroom. At the time we thought it made sense. As we went along though, we wanted to make something that was easier to understand and quicker to make. Slide 2 was the original format one of my teammates created. From that, I created the slide 3 template that includes all the content elements. The slide format stays the same so the kids know the expectations and how to complete the activities. Sarah Williams Elementary Teacher at Union School District
OBI Final Project all about Implementation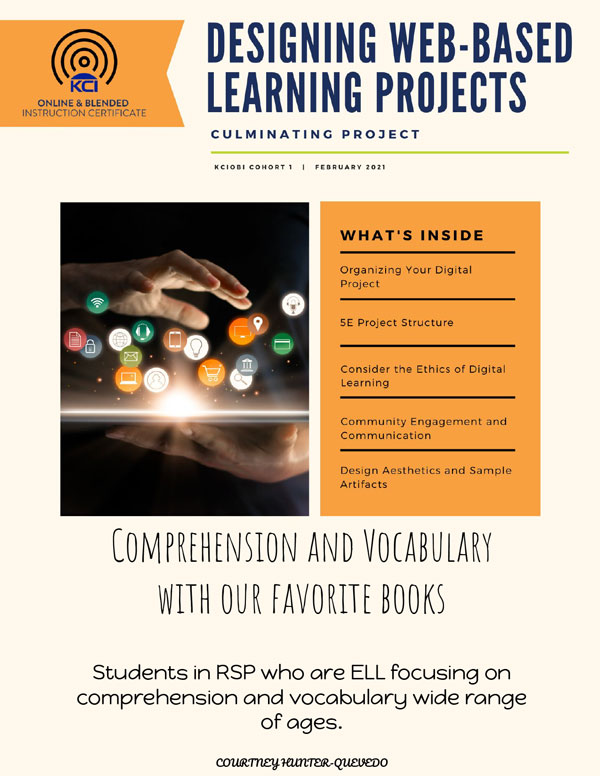 Reading Comprehension has been highlighted as problem among primary students, it has noted to be even harder for students who are learning English as a second language. This is where the importance of vocabulary comes in. The more words students know, the easier it is for students to comprehend what they are reading. [This project targets] students in RSP who are ELL focusing on comprehension and vocabulary from a wide range of ages. Courtney Hunter-Quevedo Resource Specialist at St. Elizabeth Ann Seton School
I fell into the KCI programs with MERIT. The program was recommended by a co-worker and at the time I was in major need of professional development, to keep me inspired and growing. Since the first class I knew that I wanted to be part of the KCI team. I have taken as many classes as I could. I have worked with KCI on Mini-Merit programs and I was introduced and presented at CUE conferences. I love the ease of all these programs. They are tought, not in a traditional collegeatte way, but as a friend might share their passions. Each of the leaders are skilled presenters, communicators and teachers. The curriculum's are set up to be used in class immediatly, without much prep (which teachers are in short supply of). Thank you KCI and your team.

— Zachary Hansel, MERIT Alumnus

MERIT and OBI exposed me to so many tech tools that have now become essential in my day to day teaching life. They taught me how to utilize these tools and gave me ideas on how to implement them. Without a doubt, the key word to describe these programs is "Innovation". The diverse ways that they have shown me how to incorporate technology into my instruction has fundamentally changed the way that I teach. It has given me the tools and strategies to try new things. It has changed the way I look at learning tools and how I use them. I have been able to not only improve my instruction within my class, but these lessons have bled out to my entire campus. I am now using these tools to improve my campus community and help make things more accessible to students. I would not have ever been able to do this without the support and exposure to technological tools through the two KCI programs I've taken. I'm forever grateful and this program is a MUST TAKE for any educator that is trying to add spice and flavor to their instruction!

— Mac Pham, MERIT Alumnus

"MERIT interested me because one of the main keys to student success is relevant teaching. Students need to be able to make connections between curriculum and the real world. If a student never asks ""why are we learning this"" then I know I have succeeded. I also wanted to learn more about how to bring technology into my classroom on a regular basis. During remote teaching I knew I was not as good of a teacher as I could be. I was a bit out of my element and I needed more tools and methods for online teaching. OBI was introduced at the perfect time. I was able to make better connections with my students and the engagement strategies we learned helped to improve student achievement. Both of these programs are great and the staff at the KCI is amazing :)"

— Ashley Stubbs, MERIT Alumnus
Frequently Asked Questions
Have a question? Want more info? We're here to partner and support.