OUR MISSION
We are advancing leadership by providing innovative professional learning to transform teaching and inspire students to be life long learners.
Innovate
Discovering new ways to capture the imagination of  students and increase their engagement and creativity is critical for a successful educational experience.
Educate
Introducing teachers and students to new technology and cutting-edge curriculum helps prepare students to meet the challenges of an ever-changing global economy.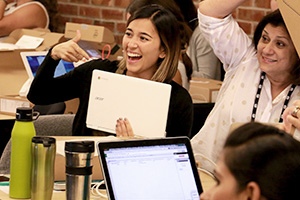 Empower
Professional learning at KCI is not limited to acquiring new skills and technology. It includes building the confidence and gaining the inspiration to transform one's teaching practices.
Serving K-14 Educators Since 2000
Over 20,000 teachers have taken KCI courses and programs. It has built a reputation on intensive summer institutes for educators, as well as the courses it provides throughout the year. The KCI has consistently focused on building innovative courses and programs and on evaluating and improving its methodologies.
The KCI's other key focus has been on partnering with education-oriented nonprofits and foundations to serve the educator segment. Based on this experience and success, the KCI is uniquely positioned to address many of the critical issues facing education and workforce development.