Transforming Teaching & Learning
We help educators bring innovative practices to their classrooms to motivate, challenge, and inspire the diverse learners and leaders of the future.
We've brought together some of the most talented and experienced professionals with extensive backgrounds in the educational and corporate spheres with the goal of improving education in our communities. Our state-of-the-art facility serves as an instructional space as well as a laboratory for exploration and learning.
Programs for K-14 Educators
We offer immersive summer programs and courses throughout the year at our site and online. Our classes and programs prepare teachers to use a variety of new teaching methodologies, hardware and software tools, including free web 2.0 applications, in daily instructional practice. Most programs begin with a summer intensive followed by additional activity during the school year.
We also offer Tailored Professional Development Programs (including Mini-MERIT) developed to meet school and district needs and goals.
Build your content knowledge and teaching skills in STEM subjects.

Use technology to enhance your teaching and learning.

 Gain confidence in your skills and ability to inspire the diverse learners and leaders of the future.
Classes
For educators, students & community members, we offer high quality and affordable training on how to use leading-edge technology for your professional development or personal use.
Educators & Community
We'll Keep You in the Loop
Learn about upcoming KCI events, programs & more:
"Humans do two things that make us unique from all other animals; use tools and we tell stories. And when you make something, you're doing both at once."
Adam Savage
Community Makerspace
For Foothill De Anza District students and staff, local area educators, homeschoolers, and the broader community
Our Makerspace is designed and dedicated to hands-on creativity and prototyping, serving as a laboratory for teaching and learning. It is open to the college and general community to work on projects and share ideas, equipment, and knowledge.
Build a Makerspace
Interested in bringing Making to your school, library or community center?
Let us guide you through successful implementation of your Makerspace. We also offer the SPACE Makerspace Program to equip leaders and facilitators with the necessary skills and collaborative mindset to spark creativity and innovation. The program includes a Makerspace Coordinator Certificate and more.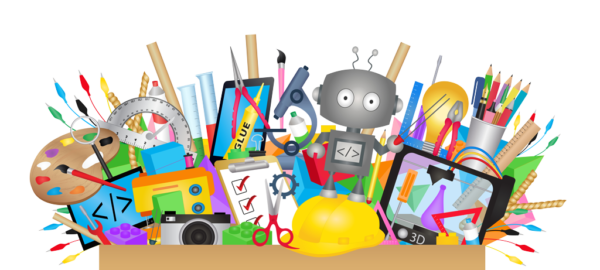 What's New at KCI?
PROGRAMS FOR EDUCATORS
Applications due by April 20 >
Many of our programs are also accepting applications for the Summer 2020 cohort.  Please see individual program pages for details & deadlines.
COLLEGE COURSES / CEUs