This program is currently running. To stay connected for future dates and program information, sign up below!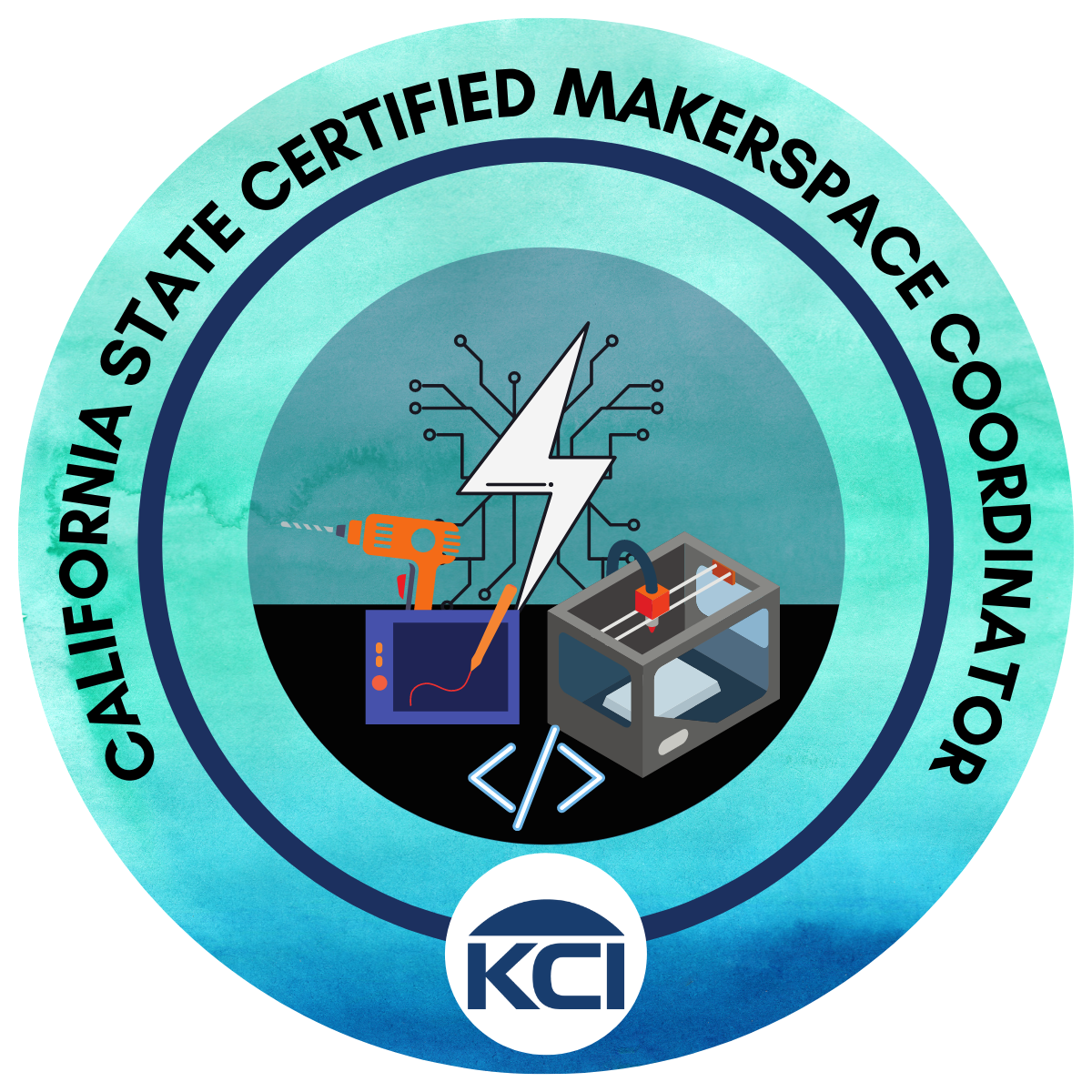 CA State Certificate of Achievement as a Makerspace Coordinator PLUS 18 Quarter Units from Foothill College, a 3 year access to the KCI makerspace, and a 3D Printer to keep
Due to the grant requirements, this cohort is ONLY open to current K-12 teachers
CA Residents: No tuition (plus a $75 Registration fee required upon acceptance)
Out-of-State and International Residents: $3700
The summer-intensive will be from July 26 to July 30, 2022 from 10 AM to 4 PM.
The four follow-up dates will be in-person at the KCI on:
Saturday, September 17, 2022
Saturday, November 5, 2022
Saturday, January 21, 2023
Saturday, March 11, 2023
In-Person at the KCI (12345 El Monte Road, Los Altos Hills, CA 94022)
Weekly asynchronous coursework occurs online throughout the program. Participants should expect to spend 1-2 hours per week on coursework and skills practice.

**Due to the grant requirements, this cohort is ONLY open to current K-12 teachers. We will run additional cohorts for other educators, leaders, or professionals in the future. 
The (maker)SPACE—Supporting Prototyping And Creativity in Education—program is designed for people who are interested in honing their maker skills and are seeking employment in fabrication laboratories and makerspaces within community centers, libraries, and educational settings. The program provides instruction and support for building models and prototypes, strategies to spark innovation and invention, and creative problem-solving and collaboration.
Participants will learn how to use all of the essential tools of a Makerspace with plenty of opportunities to practice new skills.
Program Advantages
Cohort-based Learning Model – Connect with an intimate group of educators impacting change right alongside each other.
Expert Instruction – Learn from instructors and guest lecturers who are experts in their fields and have direct experience with Makerspace coordination.
Cutting-Edge Makerspace Access – Enjoy access to all equipment, specialized training, and on-demand staff support at the KCI Makerspace.
Is this program right for you?
Are you an innovative educator looking to apply design thinking in meaningful and impactful ways with your learners?
Are you aiming to sharpen your maker skills for either personal or professional growth?
Are you looking to maximize the instructional impact of your current makerspace?
Do you want to expand your maker mindset and exercise more creative capacity?
Live Meeting Dates
The summer-intensive will run from July 26 to July 30, 2022 from 10am to 4pm.
The four follow-up dates will be in-person at the KCI on:

September 17th 2022 (Sat)
November 5th 2022 (Sat)
January 21st 2023 (Sat)
March 11th 2023 (Sat)
We are currently at capacity for our SPACE 22 Program Cohort. Please fill out the form below to stay connected about future cohorts and learning. 
Kas Pereira

William Cavada

Doreen Bonde

Jesus Huerta
I am participating in ELLI, my 6th program at KCI. KCI is a place where like minded innovators converge. KCI programs promote lifetime learning and support your growth as an educator, collaborator, leader and human. Once you take one you will be hooked.

— Sarah Williams, MERIT Alumnus

KCI is the center of the Bay Area universe for progressive education professional development. The programs are all about the people and KCI attracts the best.

— Mark Loundy, MERIT Alumnus

I came to know about KCI it because someone accidentally sent the "wrong email" (mine). One of the best mistaken emails -because I ended up doing FAME18. And since then went on to do MERIT20, SPACE and debut OBI courses. I call myself #KCI4Life because I have found their programs so well tailored to the needs of classroom teachers. It is not the "yet another PD or program", it is designed with specific goals and throughout the program, there is feedback that is reflected upon to steer the program accordingly. I love that the programs embed technology easily, highlights what is new and trending in that area, and the programs always bring in speakers for us to actually ask questions and get deeper. The KCI space is welcoming, the faculty are hand-picked amazing, very personable and connected to one and all in the program. I love the welcome I get and I long to go back….never felt that about most PDs….

— Sandhya Raman, MERIT Alumnus
Frequently Asked Questions
Have a question? Want more info? We're here to partner and support.