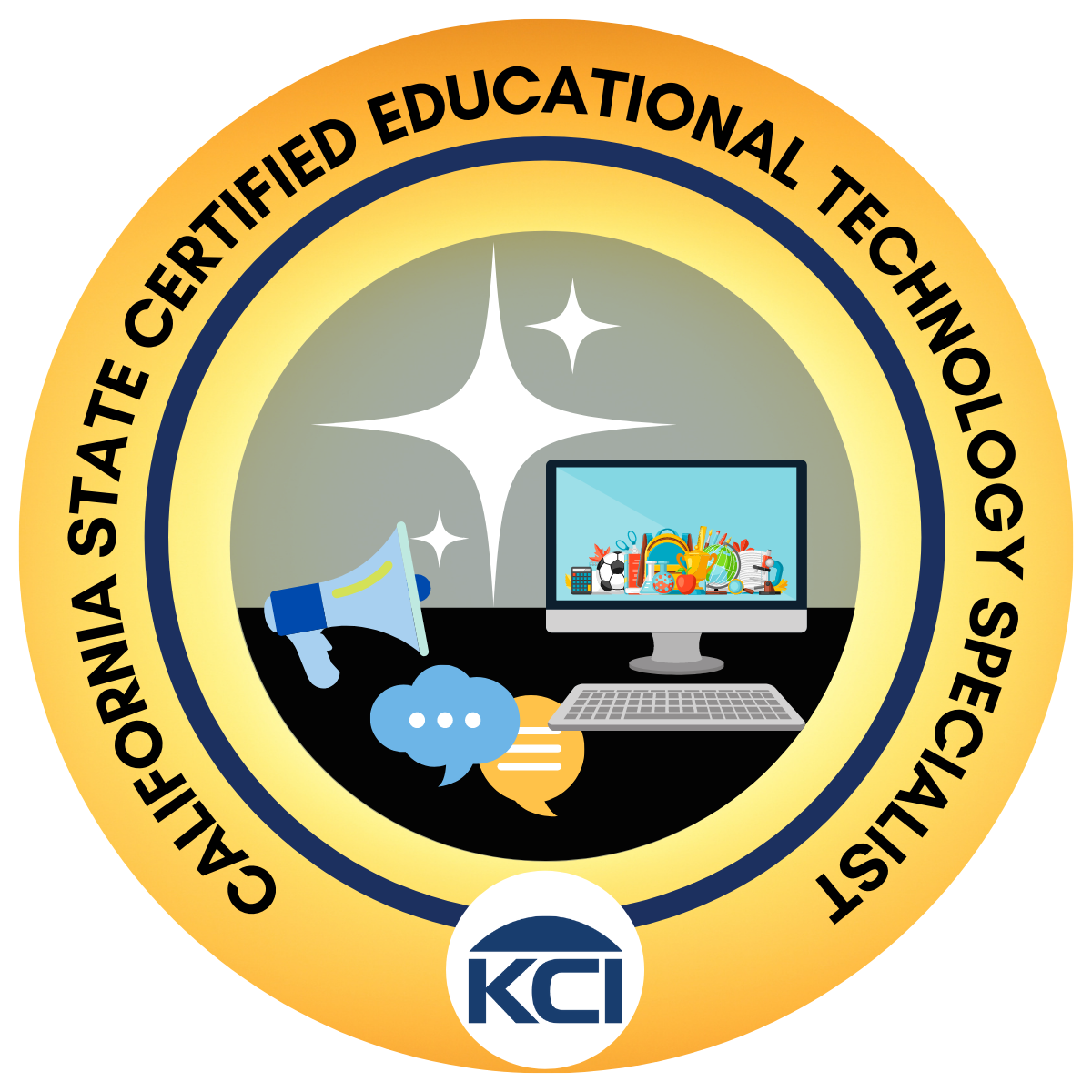 CA State Certificate of Achievement as an Educational Technology Specialist PLUS 12 Quarter Units from Foothill College
CA Residents: No tuition (plus a $75 Registration fee required upon acceptance)
Out-of-State and International Residents: $2500
Southern California Cohort will be hosted by Covina-Valley Unified School District
519 E. Badillo St.
Covina, CA 91723
Northern California Cohort will meet at KCI
12345 El Monte Rd.
Los Altos Hills, CA 94022
Competency-based with an average task time of 1 hour per week in addition to scheduled synchronous meetings

The MERIT (Making Education Relevant through Innovative Teaching) program has been KCI's premier professional learning program since 2002. MERIT is a research-based, professional learning program designed to help educators bolster their curriculum with new teaching methodologies and technology-enhanced learning activities to motivate, challenge, and inspire the diverse learners and leaders of the future.
MERIT scholars are perpetually curious, driven, and have a hearty growth-mindset.
They take risks and dial into innovative trends, tools, and experiences that empower their local community. They embrace personal and professional agency and design inclusive and responsive learning environments as models for other educators.
Program Advantages:
Grant-funded professional learning – We keep educator's budgets in mind.
Cohort-based Learning Model – Connect with an intimate group of educators impacting change right alongside each other.
Job-Embedded – Develop materials and projects you can use with your learners right now.
Community – Join a supportive, mentor-based community of like-minded individuals.
Is this program right for you?
Are you a curious classroom educator ready to uncover the innovative power or educational technology for you and your learners?
Are you an innovative school leader impacting extensive change and adoption in the area of educational technology?
Are you part of a site or district team looking to effect large-scale organizational growth for other instructors and educators?
Live Meeting Dates and Time:
Orientation

June 4, 2022 (In-Person)
9:30am-12:30pm

Summer Institute

July 11-13, 2022 (In-Person)
July 14-15, 2022 (Virtual)
July 18-19, 2022 (Virtual)
July 20-22, 2022 (In-Person)
9:30am – 3:30pm each day

Follow-Up Days

October 8, 2022 (In-Person)
November 5, 2022 (Virtual)
February 4, 2023 (In-Person)
March 4, 2023 (In-Person)
10am-3pm each day
*A professional endorsement is required before the application is considered complete.
Cate Tolnai

Cicely Day

Toutoule Ntoya

Jen Young Akimo
Back when Merit was called Earn while you learn there were just so many skills I didn't know I didn't know. The Merit program taught me so many skills that a decade later would ease my transition into online learning under COVID.

— Charles Schletzbaum, MERIT Alumnus

I wanted to heighten my technological skills and saavy as a teacher. I did not realize that MERIT would be as transformational for me as it was: no other professional development that I engaged in made as much of a difference for me. I flipped the audience for my students' work from being for just me to being public / for others / peers. The quality of work improved drastically and the engagement my students displayed in the work they were doing was heartwarming.

— Emily Burton, MERIT Alumnus

I am participating in ELLI, my 6th program at KCI. KCI is a place where like minded innovators converge. KCI programs promote lifetime learning and support your growth as an educator, collaborator, leader and human. Once you take one you will be hooked.

— Sarah Williams, MERIT Alumnus
Frequently Asked Questions
Have a question? Want more info? We're here to partner and support.