Computer Science is More Than Coding
The first full week in December is always special. It's not because of the cool, crisp air or the smell of firewood burning from chimneys. The first full week in December is special because a giant spotlight, thanks to Code.org and other Computer Science advocates, is on Computer Science. It's a subject that has continued to gain traction because of the need for a highly skilled workforce that is competent in CS and computational thinking. However, 2020 and the crisis that COVID-19 has caused, the subject has taken a backseat to distance/virtual learning and as a result, some of that momentum has been lost. This is where organizations like KCI can help fill that void.
From December 8 to December 10, the Krause Center for Innovation and the YWCA-Silicon Valley's Curated Pathways partnered to bring awareness of CS and how it can be integrated into any grade or subject area. Katherine Goyette, a lead author of the California Computer Science Standards, presented on three distinct topics, one for each two-hour session during the professional development. The topics were:
A CS Frame of Mind
Fostering a computer science mindset

More Than Coding
Topics include Computing Systems, Data and Analysis, Networks and the Internet, Algorithms and Programming, and Impacts of Computing.
Remix and Create
Find a standard or an activity that can be incorporated into any lesson and design it!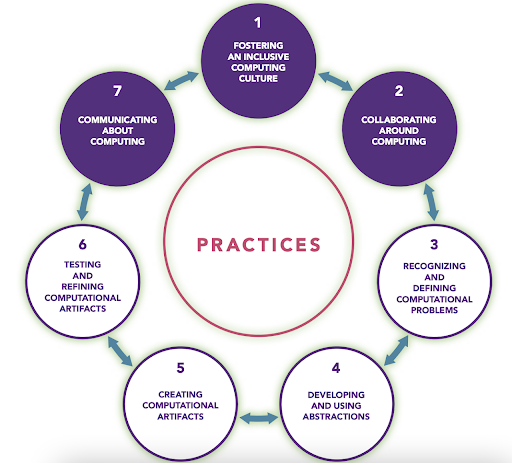 At the end of the professional development, YWCA-SV's Curated Pathways program was presented by two teachers from Salt Lake City, UT. Curated Pathways is an application that helps students explore computer science in a way that is individualized and customized to their interests. Waru Ngatai, a teacher at Centennial Middle School in the Provo City School District, has a goal of increasing BIPOC students and female students' participation in computer science. As a result of the Curated Pathways program, he has been able to increase participation of those students from 0% BIPOC and female to 32% and 19% respectively.
For more information about the computer science professional development program, please visit the website from it. We are looking forward to offering this again in the Spring!
For more information on our professional development coming up, please visit HERE.
For more information about Curated Pathways, please visit the YWCA-SV website.