FAME 2017: Maintaining the Focus on Math Tools & Methodologies for Teachers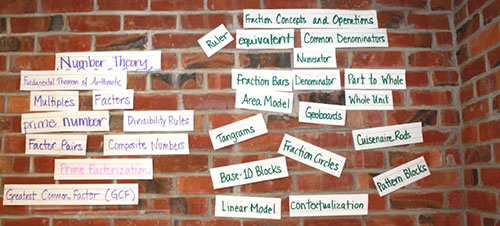 For the eighth consecutive year, the KCI has received funding from the Silicon Valley Community Foundation and another family foundation to continue the Faculty Academy for Mathematics Excellence (FAME) program. Since 2010, over 200 educators have participated in the intensive program that focuses on nine topics most difficult to teach and learn in the areas of pre-algebra, algebra, and transformational geometry. During the 72-hour program, 6th through 10th grade math teachers thoroughly explore these topics, improving their own content knowledge, and learning new technology tools and methodologies to engage their students and to improve student math skills. Last year, hands-on computer science and coding activities were included in the program and were a big hit.
For 2017, the KCI will again offer two FAME programs—Blended FAME and Traditional FAME. Blended FAME debuted last summer and received
positive teacher reviews. The program will take place the first two weeks in July, and participants will meet for five face-to-face days of the program, with the remaining 30 hours of the summer institute conducted online. The instructional team from last year is returning, with Ed Campos—an experienced math and online educator—at the helm, supported by Lindsey Blass, and Sumi Sukumar, who is the Foothill math instructor for both instructional teams.
Traditional FAME, which consists of ten face-to-face days, will take place the last two weeks in July. Participants always comment on the benefit of working closely with a cohort for the ten-day period, and appreciate the time for collaboration and hands-on practice the program provides. The KCI is fortunate that FAME program director, Cristina Bustamante, will FAME 2017: Maintaining the Focus on Math Tools & Methodologies for Teachers return for the 2017 program. Cristina is a graduate of the 2010 inaugural program, and has been the program director for the last three years. She will be supported by Sumi Sukumar and Chris Bell, a math and computer science teacher.
Both FAME programs are a major commitment for teachers. Not only do they participate in the required 60 hours during the summer, they also attend 12 hours of follow-up sessions during the academic year. This last year, the two instructional teams brought the Blended and Traditional FAME cohorts together for the followup sessions to share their experiences. It was so successful that the cohorts will work together again for the 2017 program.
Note: Our Math PD has been updated. You may be interested in our STEAM Leadership program, designed for educators who want to grow as STEAM (Science, Technology, Engineering, Art, and Mathematics) leaders in their schools, districts, and/or counties. Or, Math Best Practices, focused on classrooms for grades 3-6. If you have questions, reach out to programs@krauseinnovationcenter.org.