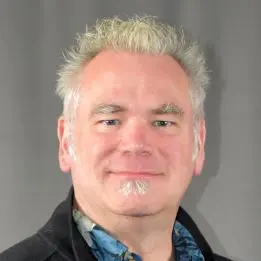 Silicon Valley CTE / MetroED / Santa Clara County
Mechatronics Engineering Instructor
Jim Burnham is currently the Mechatronics Engineering Instructor at Silicon Valley Career Technical Education High School. When you ask his students what Mechatronics Engineering means, they say, "Fire Breathing Robots".
Jim is energetic and passionate about teaching students Science and Technology. He has always loved to teach and to see students learn new ideas and realize that Science, Technology, Engineering, Art, Math, and all things Nerdy are fun and cool. Jim especially likes to see that moment when they "get it".
Jim has taught summer STEAM academies, Youth Technology/STEAM workshops, Youth High Adventure programs (herding cats) & workshops that include teaching kids how to hack the world with Arduino's and Raspberry Pi's. He especially enjoys teaching students about microcontrollers & microcomputers. Many learning to code for the first time.
Jim's technology & language skills include Robotics, AI, IoT, Spanish, Python, Perl, HTML, C and C++, VHDL and Verilog.
High School (9-12)
Higher Ed
Teacher Ed