KCI Staff & Alums Recognized at National CUE Conference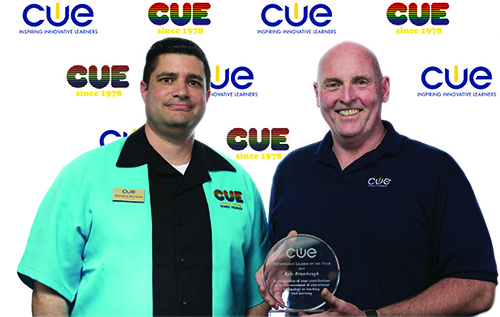 Over 5,000 educators gathered in Palm Springs the week of March 12 at the annual CUE Conference. CUE is a national organization that focuses on personalized learning, technology integration, and educator leadership. The CUE conference is the oldest and largest educational technology conference in California, and among the largest in the country. Teachers, whether they are tech newbies or seasoned geeks, are eager to make the pilgrimage to CUE to improve their skills and meet with like-minded teachers from across the state and beyond. The KCI team was on hand to conduct sessions and receive an award. KCI alums were also recognized for their contributions.
First up, Kyle Brumbaugh, KCI Professional Learning Network Director, was recognized for his contributions to education, receiving the Technology Leader of the Year award, which recognizes individuals who have had a significant positive impact on technology usage in education, locally, regionally and/or statewide. The awardee's work can be used as a model for providing educational technology leadership and for improving education. Kyle's 25-year career in K-12 education has provided many examples worthy of the award. Kyle currently leads KCI's professional learning network efforts to expand KCI programs throughout California and beyond, including Hawaii. He most recently drove the effort to secure a grant from the California Community Colleges Maker Initiative to transform part of the KCI into a new Makerspace, which serves a broad audience of educators, Foothill College students and faculty, and community members.
KCI alums and instructors also shared the spotlight at CUE. Lisa Highfill, MERIT 2010 graduate, and Brian Briggs, current MERIT Assistant Program Director and Instructor, both received the Gold Disk award. CUE's oldest recognition program, the Gold Disk celebrates a CUE member's contributions to technology in learning, as well as his/her commitment to CUE and its programs by serving at the affiliate or state level for a minimum of 7 years. Lisa Highfill is currently the K-12 Teacher on Special Assignment in Instructional Technology for the Pleasanton Unified School District. And Brian Briggs is the Director of Innovation and Instructional Technology for Plumas Lake Elementary School District.
KCI was well represented throughout the three days. Besides Kyle Brumbaugh, Lisa DeLapo (Innovator in Residence), Elisabeth Sylvan, and Danielle Martin (both with KCI Makerspace) supported KCI at the conference. Additionally, 12 MERIT program graduates and 10 KCI adjunct instructors presented and led sessions at CUE.