Get More Info about Step UP
What is the Step UP Program?
Step Up is a collaboration between KCI, Ignited Education, and Science from Scientists in the Silicon Valley to provide educators with an opportunity to explore near-term technologies such as artificial intelligence, additive manufacturing, synthetic biology, and more! Participants will engage with KCI in a 3 day (18 hour) professional learning experience where they will take a deep-dive into the subject and develop content that can be delivered to their students. Those same educators have an opportunity to participate in a 9-week, intensive internship at a company that focuses on that content, and finally, they can be mentored by a professional or ex-professional from that industry in their classroom.
The Step UP Program
Step Up has three parts:
Industry-Critical Content
We focus on technology and science content important to companies, but not currently taught in middle and high schools.
Teacher professional development
We've created an end-to-end process that prepares teachers for delivering exciting new industry content
Diverse role models
We bring a diverse group of company subject-matter experts into classrooms as student role models and company ambassadors.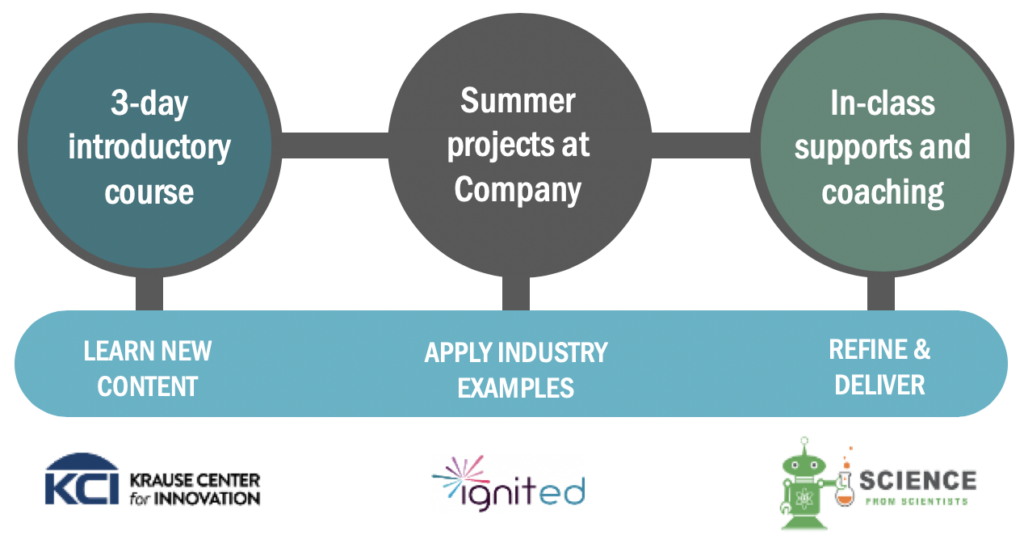 Opportunities to Lead Step UP
KCI is currently seeking dynamic experts in their field to deliver the content for Step Up professional development sessions.  Apply below.
Data Science and Industry-Critical Technology Instructor
DATES NEEDED
June 7, 2021 and June 8, 2021
TIMES
9 AM to 3 PM each day
(6 hours / day)

METHOD OF DELIVERY
Virtual
COMPENSATION
$2000
The Krause Center for Innovation--in collaboration with Palo Alto Unified, Ignited, and California Strong Workforce--is looking for a post-secondary educator or professional to facilitate a professional development on data science and how it can be applied to critical technologies used in industry such as semiconductors, artificial intelligence, and manufacturing. The instructor will be responsible for providing 12 hours of content that relates directly to data science, its applications, and interesting careers that are heavy users of data and analytics skills. The audience for this program will be K-12 educators from the Palo Alto Unified School District. Their interests will range from exposing students to data science at an early age to those who teach Advanced Placement classes to prepare students for college. Apply below.