This program is currently running. To stay connected for future dates and program information, sign up below!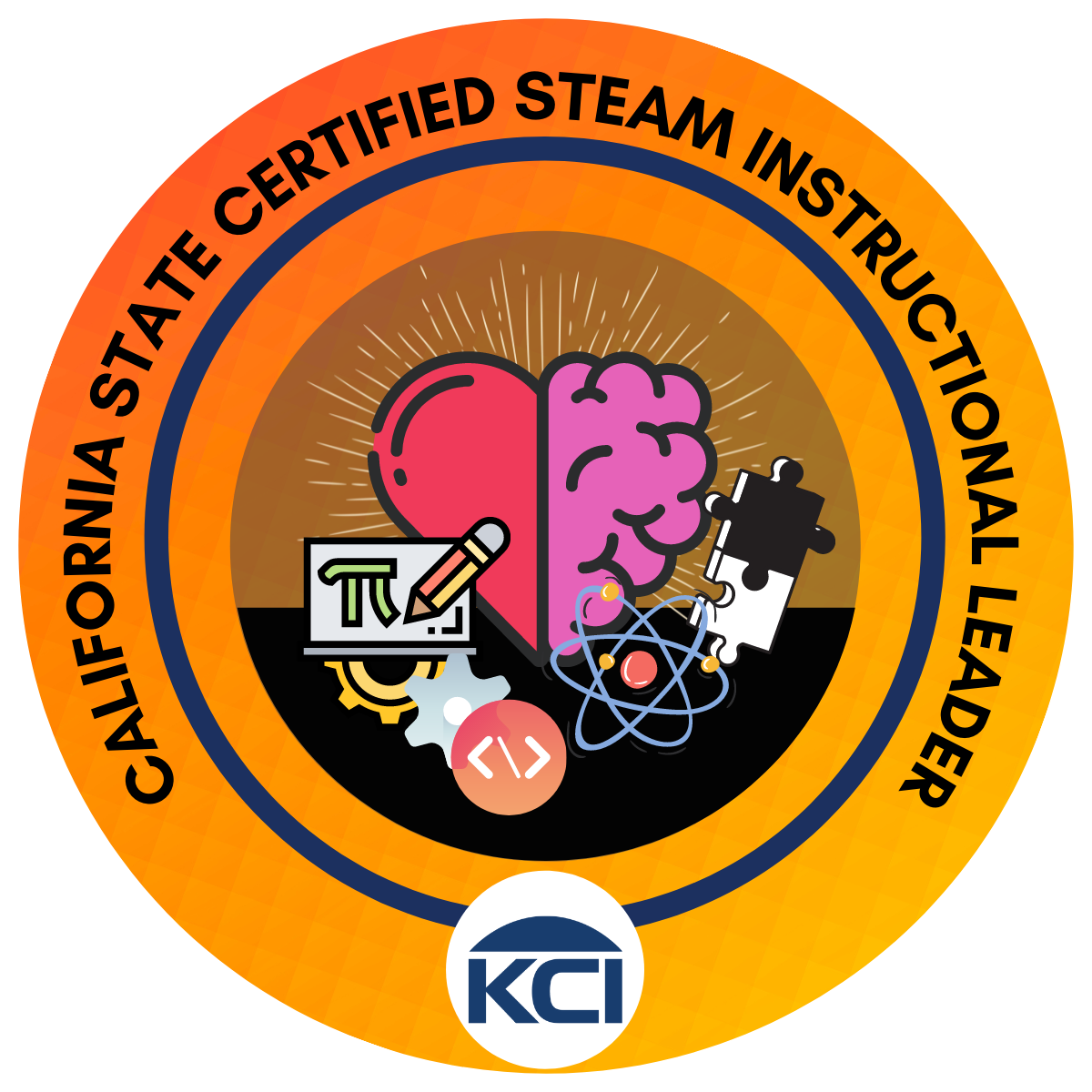 CA State Certificate of Achievement as a STEAM Instructional Leader PLUS 12 Quarter Units from Foothill College
CA Residents: No tuition (plus a $75 Registration fee required upon acceptance)
Made possible by the Synopsys Outreach Foundation
Out-of-State and International Residents: $2500
Online/Virtual
In-Person (at KCI)
Add Competency-based with an average task time of 1 hour per week in addition to scheduled synchronous meetings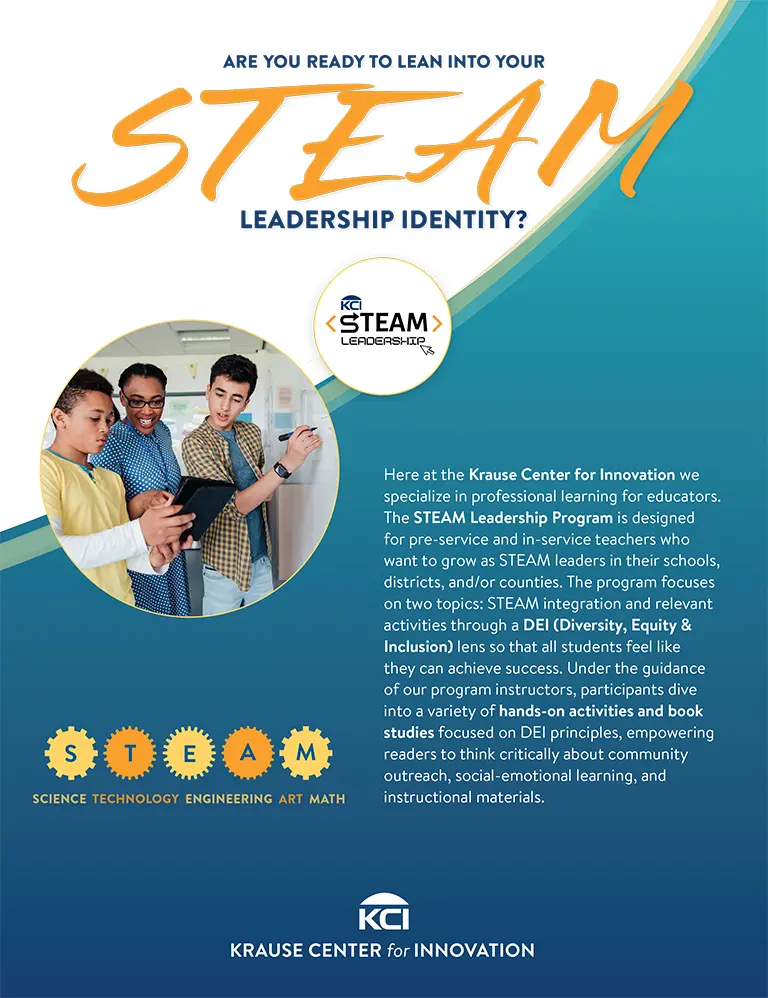 The STEAM Leadership program is designed for pre-service teachers and educators or all levels at any level who want to grow as STEAM (Science, Technology, Engineering, Art, and Mathematics) leaders in their schools, districts, and/or counties. The program focuses on two topics: STEAM and DEI (Diversity, Equity, and Inclusion).
These topics are explored through integrated units and portfolio work. Program participants are invited to select, design, and implement multiple projects ranging from integrated STEAM Units to Genius Hour projects to site or district PD plans that integrate STEAM and DEI. Under the guidance of our program instructors, participants will dive into a variety of book studies focused on DEI principles, empowering readers to think critically about community outreach, social-emotional learning, and instructional materials.
Program Advantages
Equity-Driven Leadership – Learn from instructional leaders who dedicate their time to advocacy and empowerment of all learners.
Grant-funded Professional Learning – We keep educator's budgets in mind.
Project-Based Instructional Design – We encourage participants to choose their paths of learning that deepen their areas of interest, passion, and impact.
Community – Join a supportive, mentor-based community of like-minded individuals.
Is this program right for you?
Are you a passionate, equity-driven educator?
Are you looking to integrate STEAM content into your curriculum with meaning and purpose?
Are you hoping to dial into the landscape of your local community and lead change from the inside out?
Are you looking for ways to sharpen your leadership skills to reach your diverse learners?
Live Meeting Dates and Time
Orientation

June 4th 2022 (Sat), 9am – 1pm PST – Virtual

Summer Institute

June 20th – June 22nd 2022, 9am – 2pm PST – In-Person
June 20th – June 24th 2022, 9am – 2pm PST – Virtual

Follow-Up Days

October 15th 2022 (Sat), 9am – 2pm PST – In-Person
December 3rd 2022 (Sat), 10am – 1pm PST – Virtual
January 28th 2023 (Sat), 10am – 1pm PST – Virtual
March 4th 2023 (Sat), 9am – 2pm PST – In-Person
*A professional endorsement is required before the application is considered complete.
KCI is the center of the Bay Area universe for progressive education professional development. The programs are all about the people and KCI attracts the best.

— Mark Loundy, MERIT Alumnus

I came to know about KCI it because someone accidentally sent the "wrong email" (mine). One of the best mistaken emails -because I ended up doing FAME18. And since then went on to do MERIT20, SPACE and debut OBI courses. I call myself #KCI4Life because I have found their programs so well tailored to the needs of classroom teachers. It is not the "yet another PD or program", it is designed with specific goals and throughout the program, there is feedback that is reflected upon to steer the program accordingly. I love that the programs embed technology easily, highlights what is new and trending in that area, and the programs always bring in speakers for us to actually ask questions and get deeper. The KCI space is welcoming, the faculty are hand-picked amazing, very personable and connected to one and all in the program. I love the welcome I get and I long to go back….never felt that about most PDs….

— Sandhya Raman, MERIT Alumnus

KCI offers fun opportunities to learn, explore, and make. I discover lessons in each class that I can implement in my classroom immediately!

— Jess Kwa, MERIT Alumnus
Frequently Asked Questions
Have a question? Want more info? We're here to partner and support.