Program Objectives
Participants will be able to:
Develop a knowledge base of innovative best practices in education
Join a network of peers focused on educational innovation and improvement
Guide districts strategic planning processes based on instructional and technology needs
Enhance their leadership skills in order to effectively lead a variety of teams throughout their districts
In this unique program, participants will engage in collaborative learning activities with a cohort, develop practical technology skills, and think deeply about educational innovation. Participants will have ready access to the expertise and resources of the program partner organizations (KCI and CUE) as they develop the skills and knowledge necessary to be a successful technology leader in schools and districts.
We are happy to include other partners who will assist us in ensuring that we have curriculum that is responsive to the needs facing schools today. These partners will provide advice and curriculum support to CIO candidates through the process of becoming a educational technology leader who can support teaching and learning in a variety of contexts.
Krause Center for Innovation has been a Google for Education Partner for the past two plus years and directly provides services to individuals, schools, and districts. As part of the CIO program, candidates will learn how Google tools can be used in schools and how to better manage Google Apps for Education domains.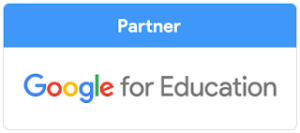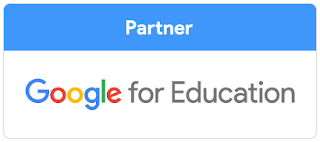 Educational Technology Recruiting works with private and independent schools to support their needs in locating educational technology leaders who can assess, facilitate, and transition independent schools into innovative and engaging learning environments.

Eligibility
The Chief Innovation Officer (CIO) Program is designed for educators with 5+ years of teaching experience. Ideal candidates have a demonstrated track record of integrating technology into instruction via their own classroom teaching or work as an administrator, technology coordinator, instructional, coach, or Teacher on Special Assignment (TOSA).
All CIO program candidates must complete the following requirements:
Cost
The CIO program tuition is $2,200 and this includes 26 quarter units of coursework from Foothill College.
Before You Get Started on Your Application
Thank you for taking an interest in the Chief Innovation Officer (CIO) Program. This is a seven-month professional development program for educational leaders initially starts on Friday, August 9, 2019. However, you can still join the program by September 9, 2019, due to the hybrid (both online and face-to-face) structure  of the program.
Candidates in the program are expected to attend monthly sessions (Friday 6 p.m. - 9 p.m. and Saturday 9 a.m. - 3 p.m.) and complete additional coursework between face to face sessions.
Your application consists of two parts. First, you need to submit a letter of support from your school or district administrator. Secondly, you need to complete the following online application.
Before starting your online application, you should download and review the .pdf copy of the application questions, a series of open-ended questions that answers of 150 words (or less). You may want to work on your answers in a separate document and then cut and paste your responses into the form before submitting. Most word processing applications will supply word counts for you.
If you have questions, please contact Liane Freeman at ude.adhfnull@enailnameerf.
Note: Be aware that it is not possible save your answers partially in the Google Forms application; please be ready to answer all questions during one sitting.
Frequently Asked Questions