The New MERIT Program 2.0
The MERIT program launched with a new name this year: Making Education Relevant through Innovative Teaching. A total of 42 educators from all over the Bay Area, California, and beyond (coming from as far away as Hawaii and El Salvador) gathered together at KCI for a two-week summer intensive in July. This marked the beginning of a 10-month professional learning journey, which will include four follow-up days spread throughout the school year, learning and sharing at professional development opportunities, and additional KCI classes. The plan is for educators to leave the program transformed—inspired to innovate their practice and connected to one another as part of a larger, supportive professional learning network.
Since educators are increasingly comfortable incorporating technology in the classrooms, MERIT 2019 focused on engaging student-centered pedagogy—with and without technology. An all-star instructional team, which included Lisa DeLapo (MERIT Director), Brian Briggs (MERIT Assistant Director), Jonathan Almerido, Lisa Guardino, and Kas Pereira, led participants through a series of workshops featuring current best teaching practices. Topics included EduProtocols (student-centered, technology-infused routines), HyperDocs (digital lessons designed with links and tasks as well as opportunities for exploration, critical thinking, and creativity), visual thinking, video creation, and more.
By the end of the two weeks, participants created numerous learning artifacts for their digital portfolios including daily reflections, several short videos, and a lesson plan for implementation this fall. Each educator presented an outline of her/his lesson. Topics ranged from leading teachers through the engineering design process; using HyperDocs to teach ecosystems; teaching third graders reflection strategies; assigning video essays around the theme of coming of age; having students design a "Great American Road Trip" using tech tools to review U.S. geography; and asking students to create Choose Your Own Adventure narrative stories using Google Slides. While the content and tech tools varied, all of these ideas were grounded in future-ready pedagogy with ample opportunities for students to exhibit voice and choice.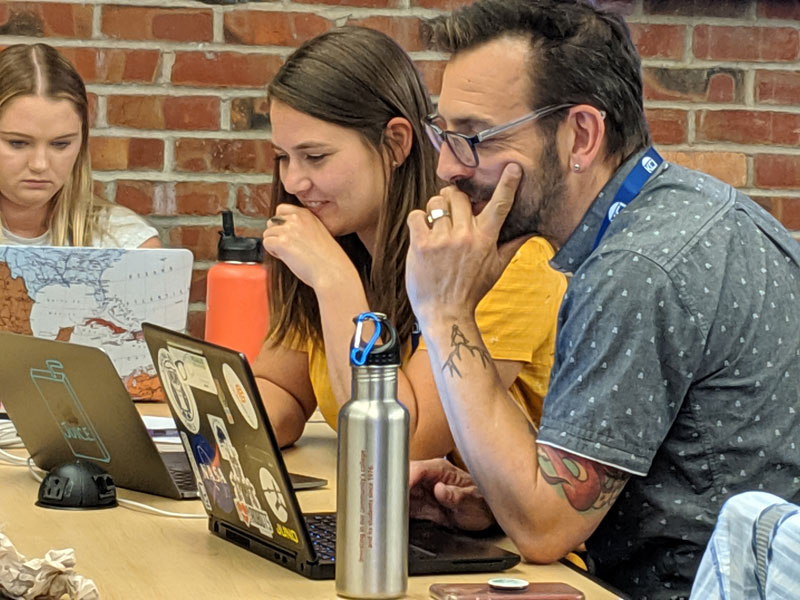 The MERIT 2019 cohort members were particularly impressive because of their standout enthusiasm, boundless energy, and how quickly they bonded and became a close-knit community. Many helped organize a series of social activities including a potluck lunch, a photo booth station up some of the days, plus numerous afternoon and evening activities such as visiting the Google sculpture garden and attending a baseball game. The group already has an active presence on social media. Be sure to follow the #MERIT19 hashtag to check them out.