This is Our Journey, Our Story
In Spring 2020, my students and I began this documentary project as the culminating assignment for my sophomore, juniors, and seniors in their Multimedia II course at Mt. Pleasant High School, a public high school located in the East Side Union High School District in San Jose, CA. The students spent the 2020-2021 school year distance learning about filming and making short videos. As their work came together, I saw a need for the final project to be centered around each student's needs and for it to be a way for them to express themselves.
Setting the Stage
The goal was modest: film a documentary with one interview that could be yourself, a friend, or family member.
The students used the video editing program WeVideo to edit their work and had full use of the stock footage in the program to enhance their voiceover or film their own footage. At the onset of the project, I showed my students a short film on YouTube about a young teenager out of New York named Chase Reed who started his own business. This helped my students to see that young people's voices matter and their stories are important.
Over the course of four weeks I led them through the documentary filmmaking process by scaffolding and breaking it down. One student, Ricardo Tovar, produced his film early in the school year when we were all still just getting used to pandemic learning. His film served as a model for other students who needed inspiration. It was from this point on that students used their creativity, passions, and voice to create over 70 films.
Where are we now?
The end outcome was that students felt empowered. I was reminded that if we give students the space they need they can create great work, they will do it. Ricardo's film, "The Journey Begins," is now screening at the 1:11 Film Festival in North Carolina. (More to come on that in a later post!) On our last days of school each student shared their films in the class and I was blown away by the stories telling.  Over the summer I submitted over 10 of the films to various festivals around the world.
We were honored with four films being selected for the All American High School Film Festival, the largest student film festival in the world, selected four of Mt. Pleasant High School student films to be part of this year's festival in New York City. Selected by industry judges, these films are included in the short list as some of the best high school films of the year.
I am excited to have the opportunity to introduce these talented media creators and their stories.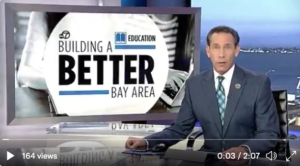 Editor's Note:
This is Part 1 of KCI's Student Media Collaboration Blog Series highlighting the amazing partnership between KCI, East Side Union High School District, and Foothill College and produced on the WeVideo platform. Stay tuned for more news from the students and community members impacted by this amazing project.