Embracing Innovation in Education: Gay Krause and Her Unstoppable Journey
Krause Center for Innovation's Founder & Executive Director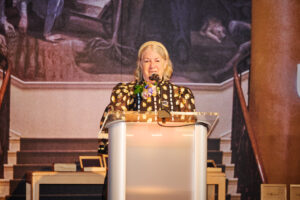 The education landscape is swiftly evolving, fueled by rapid technological advancements and an ever-increasing need for teacher training. At the forefront of these shifts is Gay Krause, the trailblazing Executive Director of the Krause Center for Innovation (KCI) in Los Altos Hills, California. Recently, Krause, executive director and founder of the Krause Center for Innovation (KCI), was awarded the Distinguished Alumni Award from Pennsylvania State University (Penn State) for 2023. The Distinguished Alumni Award is Penn State's highest honor for its alumni, recognizing exceptional professional achievements and contributions to society. She was 8 out of 796,000 surviving graduates. Krause is one of eight recipients this year and was hosted on campus to accept the award.
"Krause's transformative contributions have reshaped how educators approach and incorporate innovation in the teaching process, ultimately impacting over 23,500+ educators since the center's inception in 2000."

– Judy Miner, Chancellor, Foothill-De Anza Community College District
The Krause Center for Innovation: A Hub of Creativity and Collaboration Founded in association with Foothill College, the KCI serves as a vital connector, uniting school districts, county offices, and strategic partners to reshape how educators learn. The KCI embraces a unique and innovative approach to learning, embodying creativity through its grant-funded makerspace, programs, and workshops. The center provides a hands-on learning experience where educators can explore, create, and innovate, illustrating the KCI's commitment to interactive, student-centered education. 
A Life Devoted to Education Before leading the KCI, Krause dedicated herself to shaping young minds as the principal of an elementary and a middle school in the Mountain View Whisman School District. Here, she also served as a teacher and counselor, underpinning her commitment to and understanding of the multifaceted nature of education.
Beyond her contributions to education, Krause's leadership has had profound impacts in non-profit organizations. She founded and chaired the Mountain View/Los Altos/Los Altos Hills Challenge Team, a professional collaboration aimed at empowering K-18 youth. She also actively contributes as chair of the Palo Alto Medical Foundation Community Board and serves on the boards of the Foothill DeAnza Colleges Foundation, the YMCA of Silicon Valley, and Children Now, a policy organization.
Krause's exceptional contributions have not gone unnoticed. Her numerous accolades include the California Public Higher Education Efficiency Award and the Computer Using Educators Technology in Learning Leadership Award. Recognized by the Los Altos Rotary Club with an honorary Paul Harris Fellowship, she has also been named Woman of the Year in the 13th Senate District and Los Altan of the Year, reflecting her significant impact on local communities.
Driven by a passion for empowering educators, Krause, alongside her husband Bill Krause, a retired CEO and Chairman of 3Com and President of LWK Ventures, established the Krause Innovation Studios in the College of Education at Pennsylvania State University. This 4,000-square-foot space transformed the south wing of the Chambers Building into a hub for interdisciplinary thinking, exploration, and collaboration. The College of Education is developing a pedagogy innovation laboratory to devise cutting-edge makerspace curricula, generate research, and collaborate with similar spaces nationwide.
Gay Krause's relentless pursuit of innovation in higher education symbolizes a remarkable journey in redefining teaching and learning processes. As she continues her pioneering work at the KCI, we can only anticipate the positive ripples this will create in educators' and students' lives for years to come.