How the Vadasz Family Foundation Supports the KCI Family of Learners
After surviving the Summer of 2020, we listened and heard the voices of educators. We heard what they needed and saw that their communities were slowly morphing into pods and silos, so our instructional team at the KCI created the Online and Blended IMPACT (Instructors Magnifying Potential and Cultivating Transformation) Program. The first two cohorts (October 2020 and March 2021) included some seriously dedicated teachers who wanted to be the best they could be for their students, and they were willing to fund their own participation. But we weren't surprised. There is no other profession on this planet that has the dedication to their clientele as teachers. They will do almost anything to help their students, including giving of their time and personal income to do so. And thanks to the Vadasz Family Foundation, we are so pleased to be able to offset the tuition costs for California residents of Cohort 3 of our OBI Program!
---
About the Vadasz Family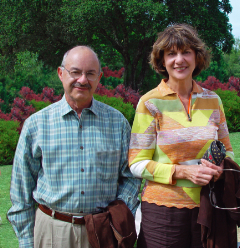 The Vadasz Family Foundation, founded in 1997, is located in Sonoma, CA, and they have supported education initiatives in and around the Bay Area for over two decades. Our Founder, Gay Krause, reached out to the Foundation to explain the work that KCI has done over the last year. They were impressed at how KCI was able to respond to educator needs and could develop such a robust program in such little time.
The Vadasz Family Foundation decided to award KCI with $50,000 to fully fund the program for up to 40 participants from California!
Donor Impact at the KCI
KCI is indebted to our generous donors and funders. Without them, we would be unable to do the work that we care so much about. We are proud to work with organizations like the Vadasz Family Foundation to bring high quality and affordable programs to educators in the Bay Area and beyond. The new cohort begins on October 6, 2021, so please share with educators in your network! We still have spots open, but they are filling up quickly. The application closes on September 19, 2021. We are working hard to secure future funding to continue to offset tuition costs for California residents, but outside funding isn't always guaranteed. Take advantage of it this year while you can!
Apply for your grant-funded spot in KCI's Online and Blended IMPACT Program before September 19!