Important Partnership for STEAM Leadership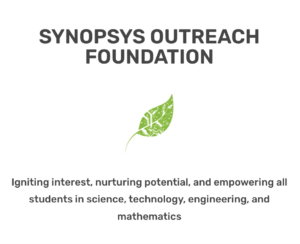 The Synopsys Outreach Foundation devotes energy and resources to ignite interest and cultivate potential for all of the Bay Area's K-12 students in science, technology, engineering, and math (STEM). They have been responsible for investing millions of dollars into programs, non-profits, and schools so that Bay Area students will be positioned to attain the jobs of tomorrow.
They are excited to partner with KCI to support 20 K-6 Bay Area educators in our STEAM Leadership Program! This investment will continue to demonstrate their commitment to helping students see value in STEM through creativity and the arts. Additionally, the program focuses on research-backed equity-driven instruction and pedagogy. The Bay Area is incredibly diverse, and every student should feel represented in STEM. This program does that, and the Synopsys Outreach Foundation is committed to helping with its success.
Teachers who participate in our STEAM Leadership Program will walk away with 12 continuing education quarter units, a STEAM Instructional Leadership Certificate from the State of California, and connections to a group of like-minded educators who are devoted to equitable STEAM instruction.
Applications for KCI's STEAM Leadership Program will be open until April 24, 2022. If you have any questions about the program, please fill out the form at the bottom of the page!