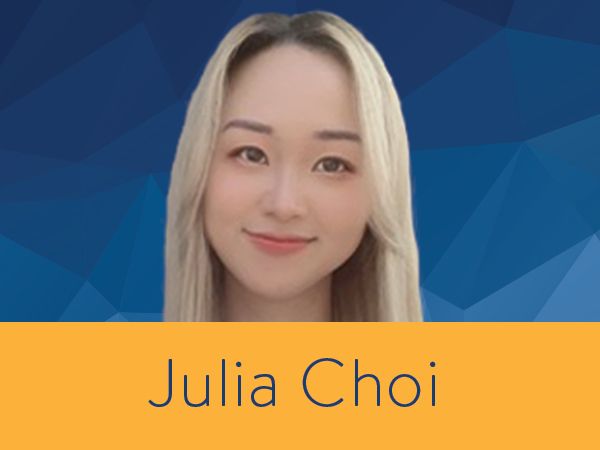 "Teaching from a distance is challenging but easier with interactive and creative tools.  I know my content, and have added tools to keep my students engaged throughout the hours we spend online."
Julia Choi teaches media arts to 7th and 8th graders.
Strengthening the School Community
A former news reporter, Julia brings real-world experience to her students as she helps them learn to produce broadcasts, develop and maintain websites, and master leadership skills, too.
"During the pandemic we've gone beyond the classroom to help strengthen the feeling of community for our students by managing live broadcasts through Zoom and YouTube. My students are doing actual, real-life work."
More Engaging and Colorful Lessons
Like many teachers, Julia's biggest challenge as she began this school year was thinking through how her already-established curriculum could be adapted to distance learning.
She wanted to share information in more creative ways. "After all," she mentions, "everyone's in front of a Zoom screen five days a week, and we all get fatigued."
Julia recounts that she's always relied on short lectures with slides to convey basic information to her students. In the MERIT20 program, a major change in mind set was learning to make lessons more engaging and colorful.
"MERIT20 planted the creativity in us," she recalls, and goes on to mention that her cohort also practiced each new idea daily so that by the time the actual school year started, it had become second nature.
Responsive Help for Students
One of Julia's concerns in teaching via distance learning is how to be responsive when her students have questions or need help on their projects.
"I keep emphasizing they can always reach me through school messaging – and if I'm busy with another student, I'll respond shortly. It's just like waiting their turn in the real classroom."
Growing Skills & Confidence
She noted that as she began to encourage her students to use the Internet as a research source, they started expanding their skills and trusting themselves to find what they needed.
"What surprised me," Julia says "is how much their research skills have improved. They're even finding new tips and tricks to share with me and the rest of the class."
Sharing Best Practices
Julia gained much in MERIT20, and had the opportunity to share concepts and activities with her fellow teachers. Even after Covid19 they will continue with the best practices learned in MERIT and their students will be stronger learners as a result.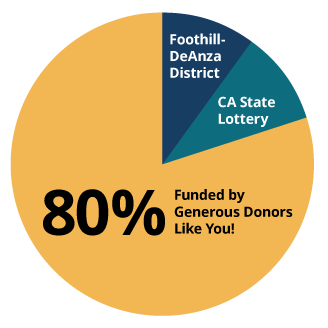 We are partnering with school districts to integrate the approach described in these stories with their own professional development programs—however to maintain and expand we need to increase our funding base.
In Summer 2020 alone, we reached over 2000 teachers.
---
Your support is crucial
Only 10% of our funding comes from the Foothill-De Anza District (primarily for facilities), with another 10% from state lottery funding—the remaining 80% comes from the generous donations of people like you.
Your donation of any amount is gratefully appreciated
You can make a credit card donation on the Foothill Foundation secure donation page*, designating the Krause Center for Innovation as shown below. You will receive an immediate email confirmation of your donation, as well as a hard copy letter.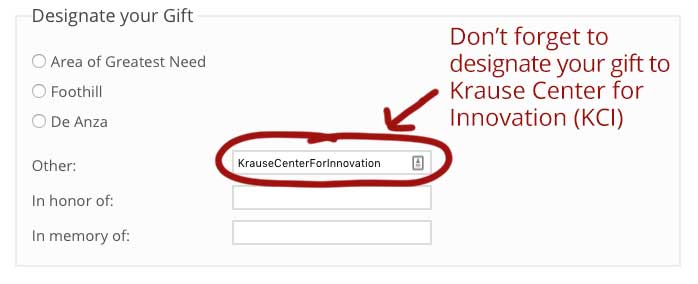 *KCI is under the fiscal sponsorship of the Foothill-De Anza Community Colleges Foundation, a 501(c)3 auxiliary organization that seeks and sustains philanthropic support for programs that advance student success.
75% of donors contributed $150 or more
Please join them and make California's teachers more effective and inspiring.