20 Highlights to Celebrate 20 Years of KCI
The past twenty years have been full of amazing moments of learning, growth, and innovation, and we are thrilled to welcome you to our year long birthday celebration. We've collected some exciting facts to capture the KCI story, and we hope you will join in and share your own memories with us.
Join us as we take a moment to celebrate our impact and the power of the KCI community at large!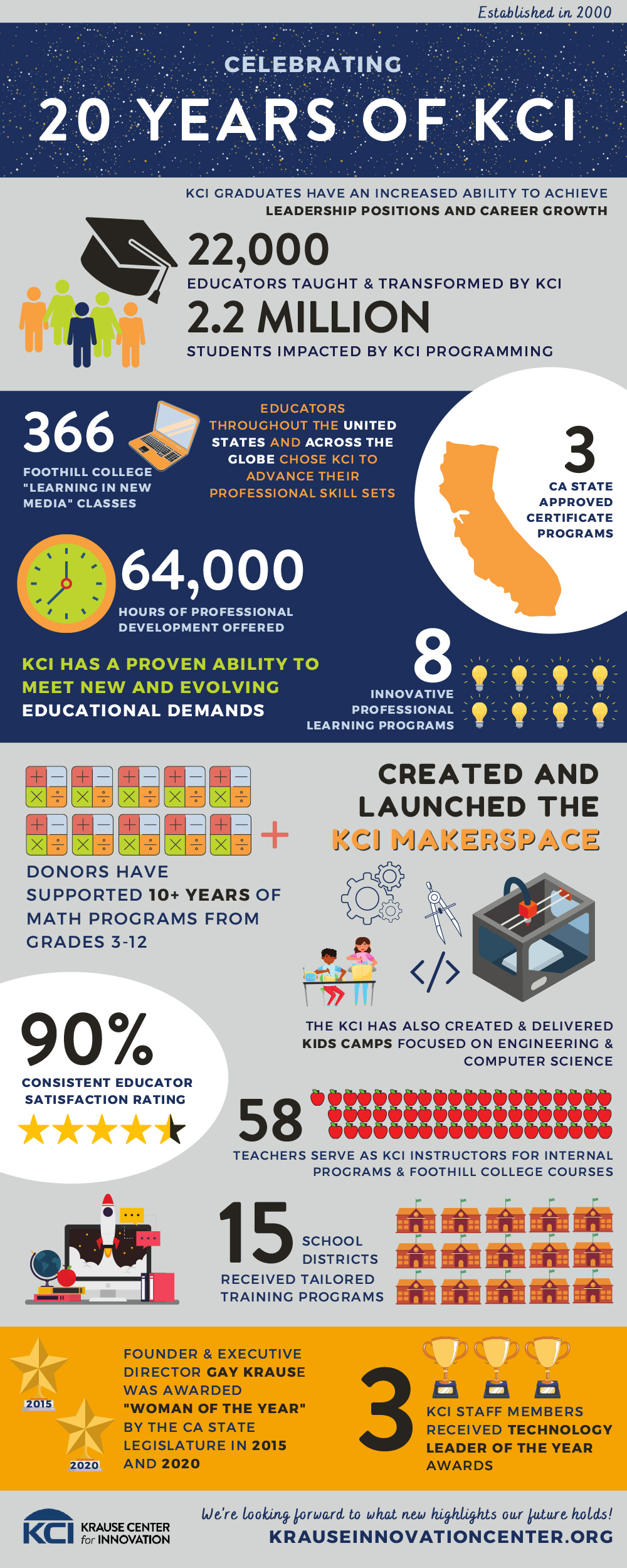 (infographic text)
Taught & transformed 22,000 educators
Educator satisfaction rating above 90%  
Impacted over 2,220,000 K-12 students
Provided 64,000 hours of professional development
Awarded grant to create & launch KCI Makerspace program
Developed 3 new state approved certificate programs
Granted online learning certificate by state in 2 weeks
58 teachers instructing other teachers using KCI methods
Educators throughout the USA participated in KCI programs
Trained educators from around the world
Created 8 official Innovative Professional Learning programs
Donor supported 10+ years of grade 3-12 math programs
KCI staff awarded 3 Technology Leader of the Year awards
Proven ability to meet new & evolving educational demands
EnhancesKCI graduates' ability to achieve higher positions
Team building events focused on strengthening community ties
Created kids camps focused on engineering & computer science
Developed tailored training programs for 15 school districts
Created 366 Foothill College "Learning in New Media" classes
Founder & Executive Director, Gay Krause, awarded Woman of the Year by state legislature in 2015 & 2020
Looking forward to what new highlights our future holds!