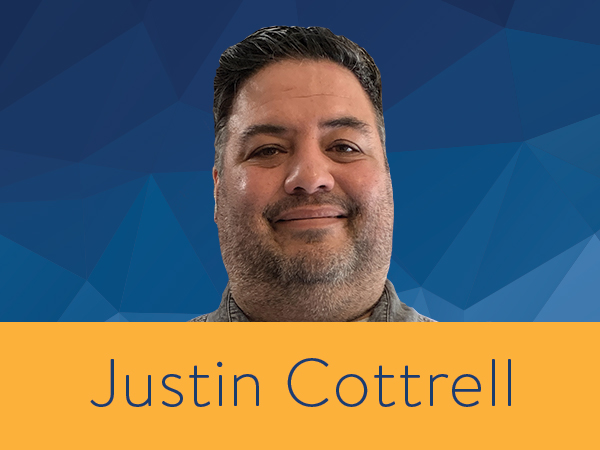 "Creating a safe setting for students and establishing trust is absolutely essential — this is particularly challenging within the distance learning environment.

The tools, processes and best practices I learned through the MERIT20 program have helped make this happen."
Justin Cottrell teaches health education classes to high school students.
Fostering Critical Thinking
"My students are inundated with information that isn't correct," Justin states, "which leads to one of my key goals—teaching them how to select resources that steer them to accurate information."
"A closely related goal," he explains, "is helping students learn critical thinking skills so they can assess what's best for them after they absorb information."
Building Community
Justin says that developing a sense of community in the classroom with the diverse mix of kids in his school district is essential for this kind of learning to take place.
He enrolled in KCI's MERIT20 program to learn new methods to make his successful classes even better.
"The timing was perfect because when the pandemic hit we were all logging in from home and it was hard to envision how to cultivate and share a safe online learning space" Jason states.
The First Big Test
The challenge was how to help them collaborate in a large online group, and use smaller breakout rooms to do their work.
Programs he mastered at MERIT served as the framework and he began the school year having students work together on a non-health-related topic as an "ice breaker." The assignment—to design an ideal classroom—was a resounding success.
This gave Justin's students the tools and confidence they needed to tackle their first major health lesson around stress: how to recognize and handle it.
Unanticipated Benefits
"There were a couple of additional benefits to the distance learning approach that I didn't anticipate," Justin relates. "Some of the quieter students who didn't speak up in the traditional classroom did so in chat rooms. I also found that students were taking more initiative on their own and not relying on me as much."
A Brighter Future
Musing on the future, Justin tells us when back in his traditional classroom he'll continue integrating the tools learned in MERIT20 to make his teaching more effective.
"MERIT20 helped me better understand how students fundamentally learn and how I can be a better teacher."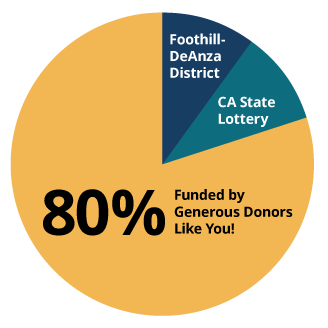 We are partnering with school districts to integrate the approach described in these stories with their own professional development programs—however to maintain and expand we need to increase our funding base.
In Summer 2020 alone, we reached over 2000 teachers.
---
Your support is crucial
Only 10% of our funding comes from the Foothill-De Anza District (primarily for facilities), with another 10% from state lottery funding—the remaining 80% comes from the generous donations of people like you.
Your donation of any amount is gratefully appreciated
You can make a credit card donation on the Foothill Foundation secure donation page*, designating the Krause Center for Innovation as shown below. You will receive an immediate email confirmation of your donation, as well as a hard copy letter.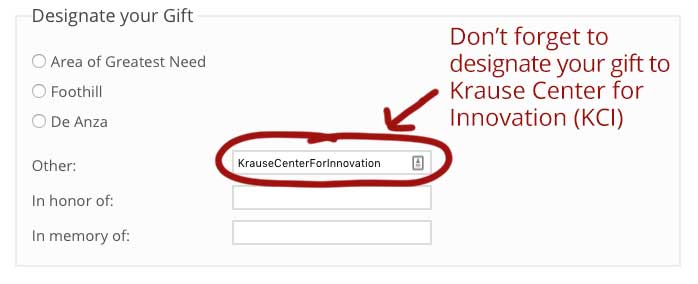 *KCI is under the fiscal sponsorship of the Foothill-De Anza Community Colleges Foundation, a 501(c)3 auxiliary organization that seeks and sustains philanthropic support for programs that advance student success.
75% of donors contributed $150 or more
Please join them and make California's teachers more effective and inspiring.