KCI Wants to Help You Make It Happen
The past few years have been characterized by the uncertainty of what the future holds and many hoped 2021-2022 would be a return to the new "normal." We heard from educators that it was one of the hardest years ever. Planning for opportunities and reigniting growth was difficult, to say the least. There were many days that just sustaining was a huge effort.
And yet we did.
As we entered into the 2022-2023 school year,  our KCI team decided that we wanted to center our fundraising and outreach efforts around a theme. Many organizations and individuals pick a word or a few words that identify for them what they want to focus on and grow in. For the Krause Center of Innovation, we decided our theme would be Making It Happen.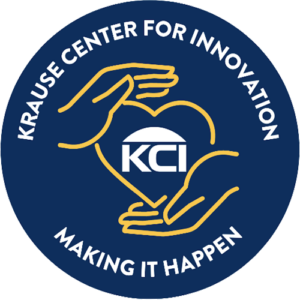 OUR PROCESS
Our theme came about from looking at the innovative programs and workshops we launch each year, as well as our outstanding makerspace located at the KCI. As we dug into the trends for 2022 and beyond, we saw that other organizations were focusing on the following:
Adopting a future-focused strategy
Implementing with transparency
Coaching the whole individual
After reflecting, ideating, and then voting, we decided on this theme because it truly resonates with this year's work. We looked at our strategic goals, considered all our stakeholders, and asked ourselves, "What kind of impact do we want to make on K-12 educators and students in California?" We focused with a lens on the educators who participate in KCI programs, the supporters at Foothill College, and the generous donors who support the KCI. Making It Happen felt spot on from each of those perspectives.
Our definition of Making It Happen empowers many diverse voices in our community. It also focuses on the act of "making" – whether that be hands-on, tangible "making" or "making a difference." It also includes the acts of providing others with the tools they need to implement this change.
WHAT'S DIFFERENT ABOUT THE 2022-2023 SCHOOL YEAR AT KCI?
This school year we are prepared to set goals, follow through, provide support to grow, and not back down. "Making It Happen" looks like:
New programming that focuses on the needs of educators in the here and now so they can "Make it Happen" for their students.
Reaching out to our community and sharing impact data so they know how they have been "Making It Happen" for so many educators and students in California.
Opening up our KCI makerspace for leaders and educators to learn to "make" in a supportive environment.
We will focus on "Making It Happen" through:
Future innovative strategies
Implementing transparency by sharing impact data
Coaching the whole educator
We believe this focus will help propel us forward with new growth and priorities for programming and deepen our relationships with our community. We hope you will join us in our upcoming programs, workshops, and events. 2022-2023 is going to be a year of Making It Happen!