Popular FAME Program Expands to East Bay
KCI is extending the reach of its math professional learning program, FAME (Faculty Academy for Mathematics Excellence), for middle and high school teachers. After nine years of recruiting teachers from Santa Clara and San Mateo counties, FAME will take place in Alameda at Saint Philip Nerit Catholic School with the intent of reaching more teachers in the East Bay. The program, scheduled for July, will be open to all teachers of math, grades 6 through 10, with a focus on teachers from high-need districts.
After targeting efforts on high-need Santa Clara and San Mateo county districts for many years, it's time to offer FAME outside of KCI's direct area. Math professional learning programs have not been as available in the East Bay as they have been locally, even with the rollout of the Common Core State Standards. KCI has heard from many East Bay educators who travel across the Bay to attend programs how welcome local programming would be.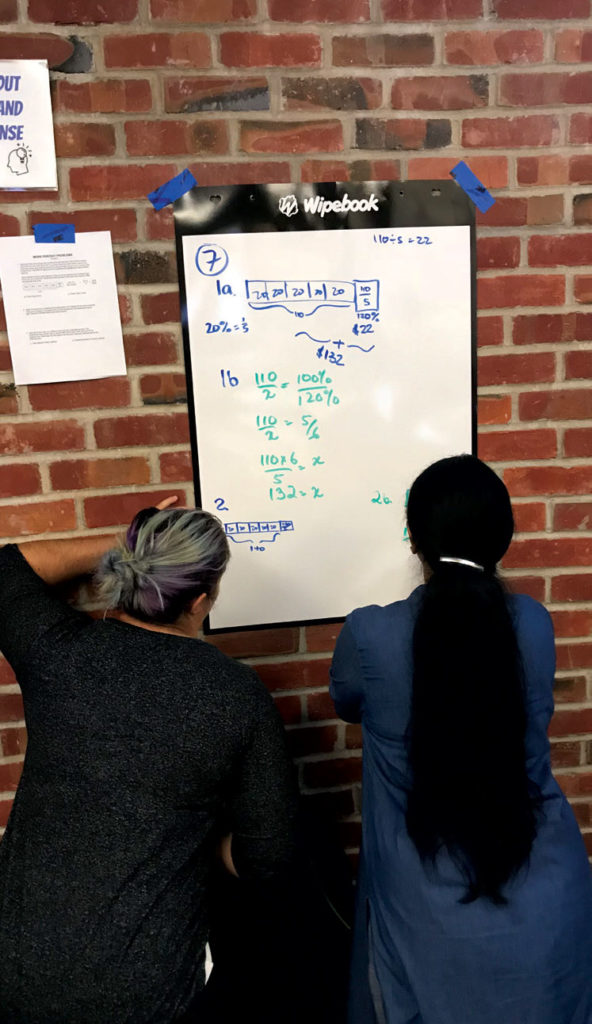 FAME is a blended program and the Summer Institute consists of six face-to-face days, supported by an additional 30 hours of online work. It is designed to increase teachers' content knowledge and teaching skills in key pre-algebra, algebra, and transformational geometry concepts for grades 6-12. Teachers gain a deeper understanding of the Eight Mathematical Practices, learn additional strategies for teaching mathematics, and receive training in how to include technology in math instruction to engage and motivate learners. By the end of the Summer Institute, participants will also use their new skills to redesign math lessons or units of study.
Participants will continue learning by attending four follow-up days throughout the school year and enrolling in additional KCI classes. They also create an e-portfolio of their experience and how their professional practice has changed. FAME is a big commitment for teachers, and if they complete the program, they earn 10.5 Foothill College for-credit units, which are funded by generous KCI donors.
Note: Our Math PD has been updated. You may be interested in our STEAM Leadership program, designed for educators who want to grow as STEAM (Science, Technology, Engineering, Art, and Mathematics) leaders in their schools, districts, and/or counties. Or, Math Best Practices, focused on classrooms for grades 3-6. If you have questions, reach out to programs@krauseinnovationcenter.org.