WeVideo Student Creators Recognized During our KCI Student Media Celebration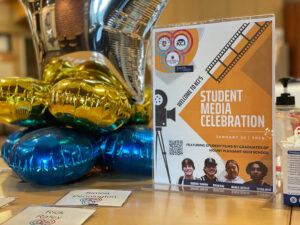 On Tuesday, January 25, 2022, KCI celebrated the creative student voices from East Side Union High School District on-campus at Foothill College with local community members and strategic partners. In addition to the student creators, the audience included KCI Advisory Board members, dual-enrollment faculty, school district leaders, and WeVideo media team members.
Will Cavada, Multimedia Teacher at Mt. Pleasant High School in San Jose, CA and Adjunct Faculty at KCI, introduced the project and provided background information for each film.
Congratulations to our student creators, college staff, school district team members, and KCI faculty for helping to make this collaborative event such a success!
In collaboration with WeVideo, check out the press release celebrating this amazing student creativity and accomplishment!