Supporting teachers, inspiring future leaders, driving equity in education -- there are so many reasons to give to the KCI!
You make amazing things possible!
The generosity of our donors makes the work of staff, instructors, partners, and community members possible through educator scholarships, low-to-no cost professional learning, the growth and sustainability of the KCI Makerspace, as well as new program development in the areas of online and blended learning, STEAM, computer science, design thinking, equity and inclusion, and creativity in the classroom.
Together, these donations support educators who embrace innovation at the core of their instructional program and also empowers them to bring energy, passion, and creativity into their learning spaces -- ultimately impacting their students and the future of education.
You Inspire Tomorrow's Leaders
To motivate, challenge, and inspire today's diverse learners and future leaders, teachers need to be able to boost their curriculum with new teaching methodologies and technology-enhanced learning activities.
Your donations are leveraged
By partnering with school districts on their own professional development programs, we leverage the power of your donation. However, to maintain and expand we need to increase our funding base.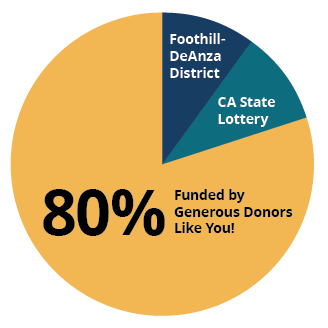 Only 10% of our funding comes from the Foothill-De Anza District (primarily for facilities), with another 10% from state lottery funding—the remaining 80% comes from the generous donations of people like you.
In Summer 2020 alone, we reached over 2000 teachers.
What parts of KCI programs resonate most with you and truly impact your learners?
Rachel Clark
KCI Online & Blended IMPACT Program, KCI MERIT Program, and KCI Space Program Alumnus
Sandhya Raman
KCI Online & Blended IMPACT Program, KCI MERIT Program, KCI STEAM Leadership Program, and KCI Space Program Alumnus
Oni Tawiah Burroughs
KCI Online & Blended IMPACT Program Alumnus
Learned So Much
"I will always be grateful for the way [the instructors] ran the program and respected us as professionals, individuals with personal lives, and learners. You made things so easy and manageable, while keeping things interesting and fun. I learned so much through this program and I have you to thank!"
Laura Degelman, KCI Space Program Alumnus
So Grateful
"I mentioned to my principal this week...
'My friend sent me the notice about the KCI class since she knew I wanted to improve my skills, then you hired me. Thank God for KCI...what a stroke of luck that I signed up. Their support and what I am learning is a godsend. I am so grateful!'"
Sloane DeVoto, KCI Online & Blended IMPACT Program Alumnus
Your donation of any amount is gratefully appreciated.
Make a credit card donation on the Foothill Foundation secure donation page*, designating the Krause Center for Innovation. You will receive an immediate email confirmation of your donation, as well as a hard copy letter. Please contact us if your interest is in supporting one of our specific programs.
We also offer sponsorship packages to help you gain recognition as a champion of top-quality teacher training while promoting your brand to teachers throughout California.
75% of donors contributed $150 or more.
Please join them and make California's teachers more effective and inspiring.
$150
Sponsors one California-based educator in a 1-unit continuing education class or workshop
$500
Covers the cost of tuition and registration for one participant to complete a California Certificate in Technology Education
$1,000
Supports the Makerspace teaching staff for one week
$3,000
Covers the cost of expert instructors, instructional materials, and KCI staffing for an individual participant
$25,000
Sponsors a 3-day tailored professional learning for a small school or district group of educators
$50,000
Sponsors a 6-month California Certificate program for 40 educators throughout California
MAJOR SUPPORTERS
of the KCI Over Time
Belljar Foundation
Connie and Bob Lurie Foundation
House Family Foundation
Intrepid Philanthropy Foundation
Krause Foundation
Morgan Family Foundation
Neukermans Family Foundation
Noyce Foundation
Packard Foundation
Paisley Family Fund
Reddere Foundation
Silicon Valley Community Foundation
Synopsys Foundation
Vadasz Family Foundation
Contact Gay Krause, KCI's Executive Director, to explore major gift opportunities: (650) 949-7113 or krausegay@foothill.edu.